What's Next
is a weekly bookish event hosted by Icey Books that helps

bloggers

/readers decide on their next book to read. If this

sounds

like something your interested in, then head over to Icey Books

and

sign-up!
Hey Guys,
Happy Thursday!
I hope everyone is having a wonderful week so far?
C

heck out

What's Next in my

Reading

Pile and if you can help me out by

voting

on What Next to read, you'd be a BIG help!
Midnight Thief
Livia Blackburne
(Midnight Thief #1)
Published: July 8th, 2014
Genres: Young Adult, Fantasy
Growing up on Forge's streets has taught Kyra how to stretch a coin. And when that's not enough, her uncanny ability to scale walls and bypass guards helps her take what she needs.



But when the leader of the Assassins Guild offers Kyra a lucrative job, she hesitates. She knows how to get by on her own, and she's not sure she wants to play by his rules. But he's persistent—and darkly attractive—and Kyra can't quite resist his pull.

Tristam of Brancel is a young Palace knight on a mission. After his best friend is brutally murdered by Demon Riders, a clan of vicious warriors who ride bloodthirsty wildcats, Tristam vows to take them down. But as his investigation deepens, he finds his efforts thwarted by a talented thief, one who sneaks past Palace defenses with uncanny ease.

When a fateful raid throws Kyra and Tristam together, the two enemies realize that their best chance at survival—and vengeance—might be to join forces. And as their loyalties are tested to the breaking point, they learn a startling secret about Kyra's past that threatens to reshape both their lives.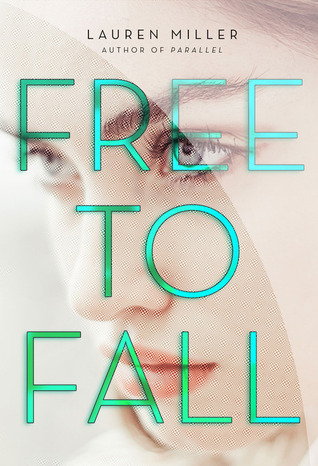 Free To Fall
Lauren Miller
Published: May 13th, 2014
Genres: YA, Dystopian, Sci-f
What if there was an app that told you what song to listen to, what coffee to order, who to date, even what to do with your life—an app that could ensure your complete and utter happiness? What if you never had to fail or make a wrong choice?

What if you never had to fall?

Fast-forward to a time when Apple and Google have been replaced by Gnosis, a monolith corporation that has developed the most life-changing technology to ever hit the market: Lux, an app that flawlessly optimizes decision making for the best personal results. Just like everyone else, sixteen-year-old Rory Vaughn knows the key to a happy, healthy life is following what Lux recommends. When she's accepted to the elite boarding school Theden Academy, her future happiness seems all the more assured. But once on campus, something feels wrong beneath the polished surface of her prestigious dream school. Then she meets North, a handsome townie who doesn't use Lux, and begins to fall for him and his outsider way of life. Soon, Rory is going against Lux's recommendations, listening instead to the inner voice that everyone has been taught to ignore — a choice that leads her to uncover a truth neither she nor the world ever saw coming.
Dark Metropolis
Jaclyn Dolamore
(Dark Metropolis #1)
Published: June 17th, 2014
Genres: YA, Dystopian, Sci-f



Cabaret meets Cassandra Clare-a haunting magical thriller set in a riveting 1930s-esque world.

Sixteen-year-old Thea Holder's mother is cursed with a spell that's driving her mad, and whenever they touch, Thea is chilled by the magic, too. With no one else to contribute, Thea must make a living for both of them in a sinister city, where danger lurks and greed rules.
Thea spends her nights waitressing at the decadent Telephone Club attending to the glitzy clientele. But when her best friend, Nan, vanishes, Thea is compelled to find her. She meets Freddy, a young, magnetic patron at the club, and he agrees to help her uncover the city's secrets-even while he hides secrets of his own.

Together, they find a whole new side of the city. Unrest is brewing behind closed doors as whispers of a gruesome magic spread. And if they're not careful, the heartless masterminds behind the growing disappearances will be after them, too.

Perfect for fans of Cassandra Clare, this is a chilling thriller with a touch of magic where the dead don't always seem to stay that way.
So, what'cha think of my top 3 choices of the week? If you can help me out, leave a comment voting on which book should come first.

Don't forget to link me up to your What's Next or weekly memo and I'll come visit you! :-)