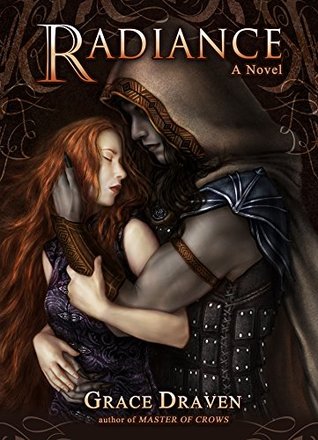 J
RADIANCE
Grace Draven
(Wraith Kings #1)
Published: January 13th, 2015
Genres: Adult, Fantasy Romance
THE PRINCE OF NO VALUE

Brishen Khaskem, prince of the Kai, has lived content as the nonessential spare heir to a throne secured many times over. A trade and political alliance between the human kingdom of Gaur and the Kai kingdom of Bast-Haradis requires that he marry a Gauri woman to seal the treaty. Always a dutiful son, Brishen agrees to the marriage and discovers his bride is as ugly as he expected and more beautiful than he could have imagined.



THE NOBLEWOMAN OF NO IMPORTANCE Ildiko, niece of the Gauri king, has always known her only worth to the royal family lay in a strategic marriage. Resigned to her fate, she is horrified to learn that her intended groom isn't just a foreign aristocrat but the younger prince of a people neither familiar nor human. Bound to her new husband, Ildiko will leave behind all she's known to embrace a man shrouded in darkness but with a soul forged by light.

Two people brought together by the trappings of duty and politics will discover they are destined for each other, even as the powers of a hostile kingdom scheme to tear them apart.
R

ADIANCE was an interesting adult paranormal fantasy romance, that I enjoyed, but didn't love. Beginning this novel I didn't have high hopes for RADIANCE, so it wasn't a big surprise when it was over and I still felt more meh then anything.

But don't get me wrong, their were still parts and aspects that I liked about this book, but not nothing serious to WoW me into an excited frenzy! But I'll definitely still be reading the sequel, because that ending has me curios as to where this book will go, and hinted that it may be turning down a darker road then it's predecessor, and that sounds like a load of fun!

Like I mentioned above, RADIANCE was a good read, but weird at the same time. While on one hand I liked it and thought it was cute and had some intriguing parts, but on the other, I found it annoying and quite boring. I didn't really feel anything for this book. I didn't have any love or hate for it, I just kept reading it because I was curios as to what would happen, but not excited to know. If that makes any sense? Anyways, it 's that kinda book that you don't hate or love, but you want to keep reading just for the hell of it.

I found the characters one dimensional, and oddly different. I enjoyed their cute banter and quick-witted retorts. I thought the main characters Brishen, the Kai Prince, and Ildiko, the niece of the Gauri King, relationship to be lighthearted and sweet. They're relationship was very straightforward with no emotional hiccups. And I didn't like that. I wanted some tension, or ill-willed feelings because of their forced marriage. Some resentment or resistance against it all. SOMETHING!! But it was too perfect, too smooth from the very beginning, too much like a puzzle that was too easily put together to be fun. It just all fit too nicely, and because of that it felt like a one dimensional book.




THE PLOT:





Three Kingdoms are on the verge of war. . .



But two of the kingdoms, the Kai and the Gauri have come to a truce, with the stipulations that the Kai Prince Brishen, and the Guari's kings niece Ildiko, will unite their kingdoms with marriage. Then they can open trade and live in a reluctant alliance. But the Beladine kingdom is unhappy with this arrangement, and have sworn vengeance and retribution to bring their kingdoms to their knees...

With no say in their marriage, Ildiko and Brishen do what they're told, and marry into a hesitant, but agreeable marriage. As the first human and beast royal marriage, they are a spectacle, everyone wanting to get a look for one reason or another. And the woman behind it all, determined to make Ildiko's marriage a horror in disguise, is the queen of it all, Semis, queen of the shadows, and as beautiful as she is vile, and she is not happy with a human daughter, and will make her marriage to her son a living hell. . .

With no choice if Ildiko wants to survive past her first month of marriage, her and Brishen must leave the royal court and travel back to Brishen's home. Far enough away from the evil queen that's determined to make her death look like an "accident." It's there in the secluded little world that Brishen has created for her, that all is truly hers, and nothing or no one is unkind or looks down upon her for her differences. It's there that she can finally be herself, and embrace her husband while exploring the depths of his soul, and getting to know the honorable man she's married. It's there she can finally live. . .



UNTIL . . .



They're newly constricted world comes crashing down around them when enemy solders strike, gaining the upper hand and taking something valuable from them. It's a time when Ildiko will find her inner strength and the courage to save the one she loves, even if it means risking herself, and the love they've just come to understand. . .

Overall, RADIANCE was an okay book that had it's ups and downs for me. For the most part I was bored and couldn't fully attach to the characters and their struggles. I thought the plot was dull and really plain, and the romance, while on one hand was sweet and gentle, but the other was too perfect and not enough tension or drama, or spark to drive me to want to invest fully into this series. However, the ending left me believing the next book will be filled with darkness, evil magic and suspense. Definitely three things I love and can easily get caught up in!