F
A
IREST
Marissa Meyer
(Lunar Chronicles #3.5)
Genres: YA, Dystopian, Sci-f
Published: January 27th, 2015
Mirror, mirror on the wall,
Who is the fairest of them all?

Fans of the Lunar Chronicles know Queen Levana as a ruler who uses her "glamour" to gain power. But long before she crossed paths with Cinder, Scarlet, and Cress, Levana lived a very different story – a story that has never been told . . . until now.

Marissa Meyer spins yet another unforgettable tale about love and war, deceit and death. This extraordinary book includes full-color art and an excerpt from Winter, the next book in the Lunar Chronicles series.
DON'T MISS OUT ON THE REST OF THE SERIES HERE: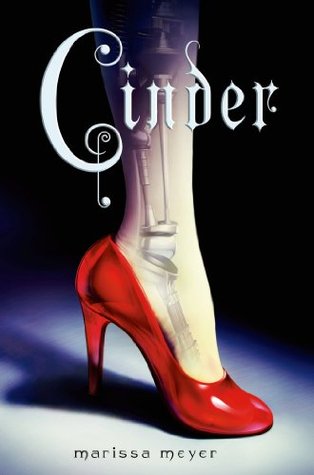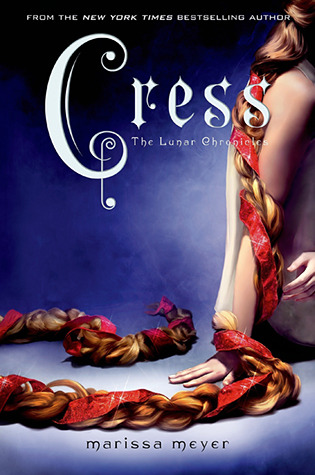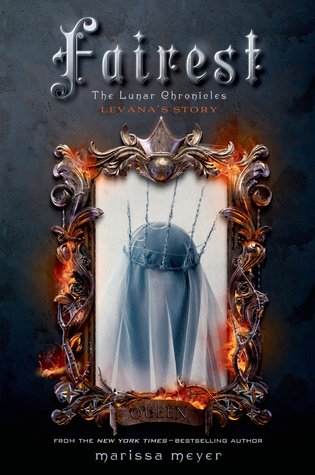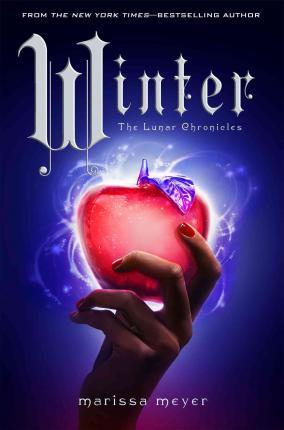 CHECK OUT MY REVIEW OF BOOK ONE, CINDER HERE!
A twisted fairytale that shows the dark side of an happily ever after. Told in the POV of our favorite evil Queen from the explosive debt that shook the YA genre with a fairytale that has been told time and time again, but not quite as delicious and addicting as CINDER!

Levana story is finally told, and it is enough to make you recoil in revulsion, yet, find a tad bit of sympathy for our evil Queen that's determined to rule the world, making all cower and serve her evil purposes.

Marrissa Meyer is a MASTERMIND of a storyteller!! I love everything this woman writes. She creates the most unique, addicting, oddly disturbing in this case, worlds that could awaken any feelings that have never been roused. Meyer's takes this story by force with her vivid details, developed characterization, flush writing, uniquely enthralling world-building and tantalizing anticipation that seizes you from the first page and does not let up until the very end. FAIREST is another exquisite hit for Meyer's!

When I read CINDER last year I fell head over heels in love with the unique fairytale world, but I despised, yet was fascinated with the evil villain Levana. I had a love/hate relationship with her. On one hand I thought she was despicable and the worst kind of evil, but I also found her the best villain for the story, and this series wouldn't be the same without her. She fit so well with the complex world and all her evil jabs were so riveting as she unleashed her manipulation and wrath on whom ever she chooses. She's as evil as it comes, and I loved the lengths she would go to get what she wanted. She was the perfect villain for this world. She's vile, evil, manipulative, selfish, conceited with her "false beauty" and willing to kill anyone who gets in her way to the throne she wants, and I LOVED every second of all that evilness.

But in FAIREST we get to see how she became the evil queen everyone feared and despised, and the reasons that turned her heart to ice. And trust me, none of what she does is excusable, but you can kinda understand how she was able to become so cruel. I loved reading Levana's POV, it was engrossing to see how she went from the shy, naive, lonely, disfigured girl, to the unstoppable evil queen that bathed her palace walls in blood to rise to the top. And with the power she wielded, she became unstoppable.

In a way I felt sorry for Levana, and at times caught myself even liking her (I said at times, not always. ;) She was very lonely, tortured by her older sister and disfigured by her cruelty. We didn't get to know her parents, the former king and queen of Luna, but from what I gathered from this book, they didn't care about Levana either. They pretty much abandoned her and didn't so much as bat their eye when she was around. And with extreme self esteem issues due to her disfigurement and lack of love, her hate manifested and grew into something evil. Then slowly, very slowly she began to see life very different, a dark place that bent to her will. And when her sister Queen Channary died, leaving the now crown princess Selene the heir to the Luna throne, Levana was able to become the queen regent that would rule all of Luna until Selene turned thirteen. With no one left to stop her, Levana now had the authority she needed to rule all of Luna with an iron fist, lashing out with her cruelty and thirst for blood. Now, if only she could get rid of Princess Selene . . . .



THE PLOT:



Fifteenth year old Levana becomes crown princess to all of Luna after her parents are brutally murdered by a shell seeking retribution for the their ill-willed rule. She's always been neglected, unloved and wanted by everyone including her parents and torturous sister. And after the forced "accident" the made her disfigured, she is more ugly then anyone could of imagined. She tries to brighten her life by using her glamour to hide her true self by wearing a false mask of beauty. The exact opposite of what truly lies on the outside, slowly becomes the inside, until she is falsely beautiful, but truly ugly both inside and out.

Each day torment by her sister Channary, now the Queen of Luna, and exiled by the rest of the court, Levana finds herself daydreaming about a handsome guard who she blindly thinks cares about her. But he's uninterested and ten years her senior, and married to the most beautifulest woman in all of Luna, and she just so happens to be carrying his child. But Levana doesn't care, she stupidly thinks he loves her, and each day her desire and false love grows, becoming hardened and forceful, and viscous and deceiving, until one day she is determined to take what she wants, one way or another he will be hers . . .

Levana's world slowly starts to unravel, but for her, it starts to come together. She will marry the man she wants, she will become his child's mother, she will take what should be hers, she will murder for what is rightfully hers, and she will stop at nothing to not only be the queen of all Luna, but the Empress to all of earth. . .

Power, blood, murder, destruction and false beauty bath the path to Levana's evil reign, and she will hold nothing back has she takes what she's destine to have. Fate has given her all the glories in her world, because she is the best Queen that has ever sat on the Lunar throne, because she is . . .


The FAIREST OF THEM ALL . . .


Levana's story takes us through the mind of a sociopath, and the fascinating back story of how she became the evil Lunar Queen. FAIREST is a must read for all Lunar fans, I think it'll give you an open mind to the woman behind all the evilness in The Lunar Chronicles. She's an evil, heartless, despicable women, that's equal parts intriguing as she is revolting, and has quickly become my new favorite villain!

Overall, FAIREST was just what I needed to see this world from both sides. This book had great back story and we get to see true glimpses of Levana's true self. I think it puts her character into perspective and helps us understand (but not agree with) some of her choices. This book was a great addition to THE LUNAR CHRONICLES that brings it's own wicked story and is definitely a must read for any Lunar fan!!!
I live in Tacoma, Washington, with my fiancé and our two cats. In addition to my slight obsession with books and writing, I'm big on road-tripping, wine-tasting, and hunting for antiques. I'm represented by Jill Grinberg.

CINDER, my debut novel, is a futuristic re-envisioning of Cinderella in which Cinder is a cyborg mechanic. Release date: 3 Jan 2012.
{BLOG} {GOODREADS} {TWITTER} {FACEBOOK}