FIRE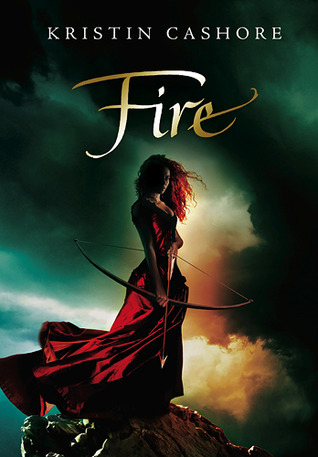 FIRE
It is not a peaceful time in the Dells. The young King Nash clings to his throne while rebel lords in the north and south build armies to unseat him. The mountains and forests are filled with spies and thieves and lawless men.

This is where Fire lives. With a wild, irresistible appearance and hair the color of flame, Fire is the last remaining human monster. Equally hated and adored, she had the unique ability to control minds, but she guards her power, unwilling to steal the secrets of innocent people. Especially when she has so many of her own.

Then Prince Brigan comes to bring her to King City, The royal family needs her help to uncover the plot against the king. Far away from home, Fire begins to realize there's more to her power than she ever dreamed. Her power could save the kingdom.

If only she weren't afraid of becoming the monster her father was.
CHECK OUT MY REVIEW FOR BOOK ONE, GRACELING HERE!!!
FIRE was the spectacular companion to the highly praised and wonderfully crafted GRACELING, book one in the Graceling Realm Series.

I fell in love with Graceling a couple years ago when I first started reading YA. I stumbled upon it looking for something with fierce action and bad ass characters. And GRACELING sounded just like the book I was looking for. And it was, it was EPICALLY wonderful in so many ways. But I was still skeptical to read FIRE. I'm not a huge fan of companion novels, for some reason I just have trouble reading them because I miss the original characters set in the same world. But I'm happy to say that was not the case with FIRE.

Set in a different kingdom then GRACELING, and kinda in a different world, but not, (I know that makes no sense, you have to read it to understand what I'm talking about) FIRE quickly set this world on fire with it's political intrigue and fast approaching war. With a stunningly gifted mind reading main character, that can captivate and stupidfy men with just one look, FIRE was a breath of fresh air that did not disappoint!

The main character Fire had a complexity about her that was intriguing and different then my normal characters. I enjoyed her beauty and womanly power to entrance men and control their minds. But with only a limited power to work with, Fire had to use strategy and endurance to complete her missions. But consumed with guilt over her wicked fathers misuse of his mind reading powers, Fire dwelled on the pain and suffering he inflicted on people. She was a strong character, and was blessed to have genuine people who cared about her regardless of the monster inside! She was also handy with a bow, and could hold her own in a fight!

The world-building was fantastic! The Dells is in a different world then Graceling though. The way it's explained in the book is that if you were in the Graceling kingdoms, and fell off a cliff, then you would land yourself in the Dells kingdom. The two realms don't even know the other exist. So that's why it was confusing when I said it was in the same world, yet it's wasn't. But the dells have no gracelings with two different eyes and special powers. But they do have colorful monsters, including the last remaining human-monster Fire. The monsters range from humans monsters, to huge hungry monsters, to little monster bugs. They have mind powers too. I thought that was a different and interesting concept. Plus you add in civil war and tons of political intrigue, with a slow burning romance that's sweet and gentle, with a underlying plot that could tips that tides of war, and your have a pretty amazing book!

One issue I had trouble with was the slow pacing and lack of a smooth flowing plot. The book was fabulous, but the pace of the novel was sometime distressing and hard-enduring. Their wasn't enough action for my taste, and the plot dragged with the slow pace and lack of action. Their was some adventure, but not much of that either, which was another let down. I guess you could say my love for FIRE mainly came from the political intrigue, war thriving, paranormal, and mind-controlling aspects of the novel. Which was enough to win me over, but not entirely!



THE PLOT:



In a remote part of the forest, Fire lives secluded from the rest of the world. She hopes by shielding everyone from her vicious power, that she will be keeping them safe from her mind-control that tends to invade and conquer minds. The same wicked power that her evil father wielded and ruined many innocent lives in the process. But Fire refuses to succumb to her fathers evil ways, and is determined not to become the monster he was. But when civil war threatens the royal family, and all she holds dear, Fire must make a decision that will change not only the kingdom, but herself, and all the promises she's kept threaten to become unraveled...

Seeking answers to recent attacks on their home, Fire and her best friend and "sometime lover" Lord Archer travel to King City, and find that the kingdom is in more turmoil then they once thought. With little hope of winning this war, the royal family seeks Fire's help with besting their two rival enemies before all is lost. But if Fire is to help win this war, she must first sacrifice her morals and become the true monster she's always been terrified of becoming... her father...

FIRE had some flaws but not enough to defer my love for these characters and book. I'm saddened that these characters are done playing they're part in this series, and we won't see them anymore. But hey, it was fun while it lasted. I'm looking forward to reading BITTERBLUE, book three, the last companion novel in this series and seeing how it ties into book one, and what secrets it will reveal! If it's anything like book one or two, then I know it's going to be pretty epic too!

Overall, I had my ups and downs with FIRE, but ultimately enjoyed most of it, and thought it tied nicely into this series with one of the same delicious villains from book one. Even with it's flaws, I was able to push past them and enjoy this book and all the fun political intrigue and devious plotting. So if you enjoy a good fantasy novel with a paranormal twist, and a slow burning romance, then definitely give this series a shot!
3.5 BONE HEARTS
{WEBSITE} {GOODREADS} {TWITTER}