Welcome to my stop in BLOOD AND SALT by
Kim Liggett
Blog Tour hosted by Penguin Teen. Today on my stop we have a Book Trailer, Excerpt, and a Exclusive Interview with author Kim Liggett + an awesome Giveaway!!
Blood And Salt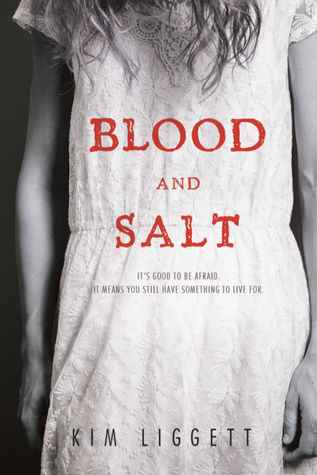 BLOOD AND SALT
Kim Liggett
Genres: YA, Paranormal, Horror
Published: September 22nd, 2015
Romeo and Juliet meets Children of the Corn in this one-of-a-kind romantic horror.

"When you fall in love, you will carve out your heart and throw it into the deepest ocean. You will be all in—blood and salt."

These are the last words Ash Larkin hears before her mother returns to the spiritual commune she escaped long ago. But when Ash follows her to Quivira, Kansas, something sinister and ancient waits among the rustling cornstalks of this village lost to time.

Ash is plagued by memories of her ancestor, Katia, which harken back to the town's history of unrequited love and murder, alchemy and immortality. Charming traditions soon give way to a string of gruesome deaths, and Ash feels drawn to Dane, a forbidden boy with secrets of his own.

As the community prepares for a ceremony five hundred years in the making, Ash must fight not only to save her mother, but herself—and discover the truth about Quivira before it's too late. Before she's all in—blood and salt.
ALICIA: Hi Kim, I'm honored to have you here today on Addicted Readers! :)
ALICIA: 1.) Can you tell us where the inspiration came for BLOOD AND SALT, and do you think it turned out to be what you planned on, or did it change from what you initially mapped out for it?


KIM: I started writing Blood and Salt as a love letter to my daughter. She had her first crushing love and I wanted to show her how smart, brave, complicated and amazing I thought she was.. Originally, I wanted to show her in the power position, but as I was writing it, I realized that's the wrong message. What I really wanted to show her was that you can fall blindly in love, have your heart broken into a million pieces, and you can then rise from the ashes. Maybe you'll do it all over again, maybe you'll be more cautious next time, but you'll never be the same. And that can be a good thing. There's life after heartache.

ALICIA: 2.) What was the most challenging, and the most enjoyable aspect of writing BLOOD AND SALT, and why?

KIM: The most challenging aspect was weaving these incredibly complicated histories together, putting the puzzle pieces together in a way that felt seamless and natural.

The most enjoyable part was delving into these characters. I got incredibly depressed whenever I had to hand in a draft to my editor. It felt like I was sending them off to bootcamp. I wondered if they'd be the same when they came back—if they'd remember me.

ALICIA: 3.) Can you tell us five random things about you?

KIM: - I'm godawful at sports—when I see a ball headed my way, I run in the opposite direction.

- My favorite color is orange—when I was a kid, I felt sorry for it because no one ever picked it. I guess it kind of grew on me.

- I've broken my nose four times. Wall. Door. Golf club. Car hood.

- I don't always want to know how things work. Like airplanes. I prefer to think of it as magic.

- I will stop at any roadside attraction. Largest ball of twine. Blue Ribbon Apple Pie. Boiled Peanuts. Mutant pumpkin. Doesn't take much! I'm either the most annoying person in the car or the most fun!!!!
ALICIA: 4.) Who was your most favorite character in BLOOD AND SALT, and why?
KIM:
I adore them all, but I loved writing Katia. She's so tortured. I really want to write a prequel, detailing her history and how she came to be immortal.
ALICIA: 5.) The description; Romeo and Juliet meets Children of the Corn definitely sounds intriguing. So I was curious why you decided to combine a thrilling horror and a forbidden romance in this one-of-a-kind epic book?


KIM:
I'm dyselxic. As a kid, I had a tough time reading, so they let me read whatever I wanted. It had to be something really compelling to get me to finish a book. I was drawn to creepy horror books and scintilating romance novels. And there you have it—a style was born!
ALICIA: 6.) Do you have a deleted scene from BLOOD AND SALT that you could share with us? If not maybe you could share your favorite short teaser from BLOOD AND SALT?
KIM: In the original manuscript, the memories were all written in verse.

Here's what that looked like:


Thatches of prairie grass loom
around me.
The breeze swoops
down
from towering limestone
cliffs,
turning endless fields
into roiling seas.
He makes his way toward me,
in weathered armor.
Our love is more
than a secret–
it's forbidden.
He ties a long,
black
silk
ribbon
around my throat.
I close my eyes,
and memorize
every detail of his scent–
sandalwood, cedar
and dark fertile earth.
I free myself
from my beaded deerskin dress,
letting it fall
in a pool beneath my feet.
The ends
of the ribbon drape
lovingly
down the length of my back,
conforming
to my every curve.
He takes me
in.
My skin warms
to sunlit honey.
We embrace
under a golden sky;
all consuming,
limbs entwined,
the black silk ribbon
dancing
ALICIA: Kim, it was such a blast having you stop by and chat with us today, I look forward to seeing what you come up with next! :)
THE SICKENING CRACKLE of the corn-husk rope pulls me from sleep, down the hall, up the stairs, and out into the night. The sky is the strangest color, a dusky gray rose. Dark blond hair skims the ground as it disappears into a patch of tall prairie grass.

Tearing through the coarse grass, I try to reach her. As I break into a small clearing, I catch a glimpse of her face—eyes wide and lifeless, she stares back at me as her body's being dragged into the corn.

Sensing a presence, I

turn

to see a winged figure made of smoke move toward me, but I'm not afraid. The scent of freshly rained-upon soil, salt, hay, cloves, sandalwood, and saddle leather perme­ates the air. It's the most beautiful smell in the world. I

close

my eyes to breathe it in, hoping it will imprint on my memory. And when I open them, the smoke has sharpened into the face of Dane.

I reach out to touch him, but he flinches away. I can't help but laugh. Even my illusion of Dane won't cooperate.

My skin is pulsing with light. Faint at first, the golden light soon grows into a soft halo that wraps around me, illuminating the protection marks.

I stand perfectly still, coaxing the golden light forward to reach him. As soon as it meets his skin, I can feel him, just as if I were touching him with my own fingers. Every bit of our

connection

is alive and electric as it flows through me and into him, back from him to me, and around us.

I feel his spirit, damaged and beautiful. Perfect in its flaws. Suddenly, I become worried that he can see all of me, too; something in me wants to cover up, to hide my imperfections. I feel vulnerable, like a gaping wound with salt water lapping at the edges.

"Do you see the light?"

"There's no light," he answers.

It makes me so sad he can't see or feel what I feel. "Just because you don't see it, doesn't mean that it doesn't exist."

Dane's shadowy figure takes an unexpected step toward me. Even though he's only a hallucination, I swear I can feel his gentle breath on my face. He leans forward, pressing his lips against mine. I can taste him, along with the salt of my tears that stream into our mouths. Sadness and ecstasy consume me.

I open my eyes to find Dane has vanished, along with every bit of light that beamed from my skin. I hear the crops rustle behind me. I

turn

and step toward the corn. As I peer through the stalks, a feeling of dread presses down on me, crushing me, holding me in place.

The dead girl's hand emerges from the corn, clasping my ankle. "I thought you loved me," she whispers.

"Ashlyn."

I awoke sometime before dawn, sprawled on top of my cov­ers, a thick sheen of sweat covering my body. I stirred; my muscles ached. My feet gritted against the sheets. Looking down, I found them caked in dirt.

I leapt out of bed.

"What's going on?" Rhys mumbled.

"Nothing. Just need to get ready." I escaped into the bath­room and rested my forehead against the closed door.

"This is real," I told myself as I pressed my fingers into the cool wood grain. I stole a glance at myself in the mirror and did a double take.

Threaded into my tangled hair were coarse strands of prairie grass. In a panic, I checked the rest of my body. "Holy shit." I exhaled when I discovered a bloody handprint coiled around my left ankle.

I'd gone outside without a clue of how I got there or how I got back. I'd lost time again. Maybe hours. Was Coronado's black magic trying to lure me into the corn? But it felt deeper than that.

"Are you okay in there?" Rhys knocked on the door, star­tling me.

"Find another bathroom," I snapped as I pumped water into the washtub. I stepped into the cool water and scrubbed my legs with a washcloth until they were raw, then pulled the plug, watching the dirty water swirl around my ankles and disappear down the drain.

The dead girl spoke to me. She touched me. She wanted me to find her in the corn. And Dane could take me there.
a Rafflecopter giveaway
At sixteen, Kim Liggett left her rural midwestern town for New York City to pursue a career in both music and ac

ting. While attending the American Academy of Dramatic Arts, Kim sang backup for some of the biggest rock bands in the 80's.





After settling down to have a family, she became an entrepreneur, creating a children's art education program and a travel company specializing in tours for musicians.


She's married to jazz musician Ken Peplowski, has two grotesquely beautiful teens, and a very neurotic dog that drags her through Riverside Park everyday on the Upper West Side of Manhattan.
{WEBSITE} {GOODREADS} {TWITTER} {FACEBOOK}