The Veil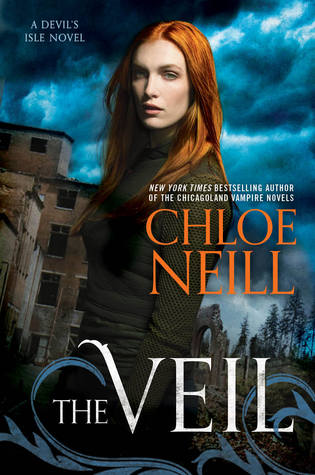 T
HE VEIL
Chloe Neill


(Devil's Isle #1)
Published: August 11th, 2015
Genres: Adult, Fantasy, Paranormal
Seven years ago, the Veil that separates humanity from what lies beyond was torn apart, and New Orleans was engulfed in a supernatural war. Now, those with paranormal powers have been confined in a walled community that humans call the District. Those who live there call it Devil's Isle.

Claire Connolly is a good girl with a dangerous secret: she's a Sensitive, a human endowed with magic that seeped through the Veil. Claire knows that revealing her skills would mean being confined to Devil's Isle. Unfortunately, hiding her power has left her untrained and unfocused.

Liam Quinn knows from experience that magic makes monsters of the weak, and he has no time for a Sensitive with no control of her own strength. But when he sees Claire using her powers to save a human under attack—in full view of the French Quarter—Liam decides to bring her to Devil's Isle and the teacher she needs, even though getting her out of his way isn't the same as keeping her out of his head.

But when the Veil threatens to shatter completely, Claire and Liam must work together to stop it, or else New Orleans will burn…
{AMAZON} {BARNES & NOBLE} {AUDIBLE}
THE VEIL was an adult dark urban fantasy, that takes us through a post-war world, where paranormals are prisoners to humans, and humans with magic are condemned for the power they wield, and only a weakened barrier stands between them and another bloody war with the paranormals on the other side! And one girl may be their only hope for survival...

I have one word for this book, WOW!! This book was absolutely wonderful and totally engaging for me. It had a fantastic premise that completely immersed me and had me craving more!! And surprisingly it wasn't that action-packed and had absolutely no romance. But Chloe Neill still made me falling in love with this book and characters! I LOVED it!

THE VEIL was a slow burning book, it wasn't fast-paced or filled with non-stop action and adventure, but it still had it's perks and upsides. One being that I really enjoyed the characters a lot. Clarie the main character was a great protagonist. She was flawed but still had many redeeming qualities that I really admired. Most of the time Claire had to be two people at once. She was a Sensitive with telekinesis powers, but any human with magic was forbidden, and if she was ever revealed she would be sent to the same place her enemies are sent, Devil's Isle...

Also the world-building was unique from what I normally read. I loved the set-up of this world and the post-war state of New Orleans. The Veil barrier was also an interesting concept that I enjoyed. The Veil was the only thing keeping another bloody war from breaking through and killing and enslaving all the humans. It was creative and the ending wrapped around the Veil and trying to keep it closed, and I thought it was engaging an wonderful done! I can't wait to read the next book and see what happens next with The Veil!

While reading THE VEIL I never found myself bored or thought it was under developed, or really had any serious issues with it. I LOVED Chloe Neill's refreshing writing style and her gift to draw the reader in with very little action and absolutely no romance. You have to be a seriously gifted author to catch my attention with no action or romance, because they are two things I HAVE to have in a book if I'm to enjoy it. But Chloe Neill has proved me wrong with this absolutely wonderful new series, that I devoured and couldn't get enough of!

Now all that aside I still really wanted more from the romance department! I thought Claire and Liam were perfect for each other and had great chemistry, but they never acted on their feelings for good reasons. But I still would of liked more from their "Friendship" by the end when they realized all is not what it seems, and maybe, just maybe their relationship could make it after all. But sadly not even one kiss did they share. But their was still tons of attraction and flirtation, just no acting on it. And I'm pretty sure I would of given this book 5 stars if the romance was more developed!



THE PLOT





SEVEN YEARS AGO...



Magic has always been a myth, a tale to tell your kids before bed, a parlor trick to entertain and fantasize. But what the people of New Orleans never expected, was that magic was in fact very real, and far more threatening then they ever could have imagined...

A new era has begun, and magic, blood, and darkness bathes the streets...

Seven years ago the people of New Orleans discovered just how real and dangerous magic really was, and the horrors it's capable of. The Veil, a barrier between the human world and the supernatural world was ripped apart, and the human world was plunged into war and chaos. The humans were vastly unprepared for the threat they didn't even know existed. And they had to find ways to defeat the supernatural beings with extraordinary strength and magical abilities before their world was seized and conquered, and they were all enslaved to the supernatural beings called Paras.

Eventually the humans regrouped and found weakness in the different Paras. They were able to hold them off long enough to seal The Veil back up with encryption magic that can only be reopened by the sensitives (Humans with magical abilities that leaked in through The Veil and engulfed certain humans) that encrypted it. And since The Veil was now closed, they couldn't send the Paras back from where they came from. So the Paras were all rounded up and thrown into Devils Isle, a closed of community that was created just for them. But unfortunately some humans were affected by the magic, and they were called Sensitives. But they're were also others who were not so lucky, and the magic engulfed them, controlled them, and they became vicious and dangerous, and unaware of their actions, they became hungry and deadly, and they were called Wraiths...



PRESENT TIME...



Claire Connolly has seen first hand the darkness of her world. She lived and fought in the war seven years ago when her world was ripped apart by the Paras from the other side of the veil. But she survived, and now she's battling a new war, a war within herself, a war she cannot defeat, only concede.

Claire is a Sensitive, a human infused with magic from the veil, and she is forced to live a lie, or be confined to Devil's Isle where all Paras, Sensitives, and Wraiths go if their ever exposed. But Claire is careful, she never uses her magic, never reveals it to anyone, not even her two best friends. But one day all that changes when a girl is attacked by Wraiths, and Claire is her only hope for survival.

Torn between helping this defenseless girl or exposing her deadly secret, Claire makes a rash decision that threatens to put her in Devil's Isle, and she has no choice but to run away from the life she's made in New Orleans. But when Liam, a striking Bounty Hunter breaks into her store and reveals he knows her secret and is willing to help, Claire goes down a dark road of uncertainly, betrayals, and shocking revelations that will make Claire rethink everything she once knew...

With her life hanging in the balance, Claire must keep her secrets close and her enemies closer, and remember her fathers motto: " Don't get involved." But it's far too late for that, and Claire must decide which part of the war she's fighting for, and determined how many sides their are, and just how far she's willing to go to save her people from the threats that are overwhelming her city!!!

THE VEIL was a fantastic blend of paranormal and fantasy that reeled me in from the beginning and didn't let up until the very end! This book has definitely become one of my new favorites, and I can't wait to see where it goes next, and if Claire and Liam FINALLY act on their unstated desires.

Overall, THE VEIL was a very enjoyable read that I couldn't get enough of. I was addicted by Neill's writing style, her fierce world-building, and her strong charters. And though I would of liked more action and adventure, and definitely romance, I still found more enjoyable aspects to not. So if you enjoy adult novels set in a dark world with a fantasy and paranormal twist, and an engaging plot with wonderful characters, then definitely check out THE VEIL, you may just find your not disappointed!!

NOTE: I received a physical ARC from NAL (Penguin) for reviewing purposes! All opinions expressed are my own and are not influenced in any way!
4 BONE HEARTS



Chloe Neill is the New York Times and USA Today bestselling author of the Devil's Isle, Chicagoland Vampires, and Dark Elite series. She was born and raised in the South, but now makes her home in the Midwest. When not writing, she bakes, works, and scours the Internet for good recipes and great graphic design. Chloe also maintains her sanity by spending time with her boys–her favorite landscape photographer/husband and their dogs, Baxter and Scout. (Both she and the photographer understand the dogs are in charge.)




Chloe is represented by Lucienne Diver of The Knight Agency. Chloe is a member of the Romance Writers of America.