Welcome to my stop in THE ACCIDENT SEASON by
Moïra Fowley-Doyle
Blog Tour hosted by Penguin. Today on my stop we have an awesome Interview wit
h Moïra Fowley-Doyle, author of THE ACCIDENT SEASON + a great Giveaway!
The Accident Season
THE ACCIDENT SEASON
Every October Cara and her family become inexplicably and unavoidably accident-prone. Some years it's bad, like the season when her father died, and some years it's just a lot of cuts and scrapes. This accident season—when Cara, her ex-stepbrother, Sam, and her best friend, Bea, are 17—is going to be a bad one. But not for the reasons they think.

Cara is about to learn that not all the scars left by the accident season are physical: There's a long-hidden family secret underneath the bumps and bruises. This is the year Cara will finally fall desperately in love, when she'll start discovering the painful truth about the adults in her life, and when she'll uncover the dark origins of the accident season—whether she's ready or not.
ALICIA: Hi Moïra, I'm honored to have you here today on Addicted Readers! :)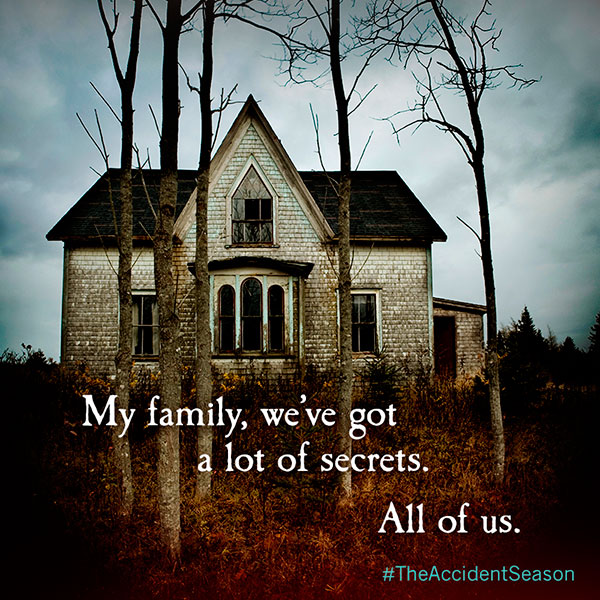 ALICIA: 1.) Can you tell us where the inspiration came for
THE ACCIDENT SEASON, and do you think it turned out to be what you planned on, or did it change from what you initially mapped out for it?


MOIRA:

Hi Alicia, thanks so much for having me! The inspiration for The Accident Season came from a couple of different places. I wanted to write a dreamy, magic realism-y (magic realistic?) story about a teenage girl with a big imagination and a head full of secrets, for whom reality didn't always feel very real. I borrowed details from a book I wrote when I was sixteen that had an element of forbidden love, family secrets and a mysterious girl who set mousetraps and wandered around the woods with a butterfly net. The rest just came out as I wrote – I was travelling without a map so didn't have a clear plan of what it would look like in the end.




ALICIA: 2.) What was the most challenging, and the most enjoyable aspect of writing THE ACCIDENT SEASON, and why?
MOIRA: The most challenging was probably midway through editing the book when I (quite fittingly) broke my wrist and had to write the rest one-handed with the other arm in a sling! And while I loved rushing through the first draft and falling in love with my characters as I went, some of the most enjoyable parts were working with feedback from my agent and editors who really understood where I was trying to go with the story. I loved revising with their suggestions in mind and seeing the book go from a first draft to a finished novel.
ALICIA: 3.) Can you tell us five random things about you?
MOIRA:
- I've broken five bones since the age of seventeen.

- I've kept diaries since I was six years old; they all live in an enormous crate in my wardrobe.

- The first few are written entirely in list form. (1. I wok up. 2. I hab my brekfast it was coco pops. 3. I got dressd in a pritty bress no soks.)

- I was a terrible speller until I was well into my teens.

- I must own dozens of bookmarks but can never find them when I need them so I dog-ear all my books to find my place & mark specific passages shh don't tell the librarians.
ALICIA: 4.) If you could describe THE ACCIDENT SEASON in 15 words or less, what would they be?
MOIRA:
Eccentric teenagers with predilections for fortune-telling drink too much and break into abandoned buildings.
ALICIA: 5.) Who was your most favorite character in THE ACCIDENT SEASON, and why?
MOIRA:
I loved writing Bea because of her vivacity and flair for the dramatic. Also she paints herself as a storyteller and I had a lot of fun thinking up tales for her to spin, little things for her to notice that Cara doesn't.
ALICIA: 6.) Do you have a deleted scene from THE ACCIDENT SEASON that you could share with us? If not maybe you could share your favorite short teaser from THE ACCIDENT SEASON?
MOIRA:
I think this is my favourite teaser because it's the first thing I wrote of the very first draft of the book:
It's the accident season, the same time every year. Bones break, skin tears, bruises bloom. Years ago my mother tried to lock us all up, pad the hard edges of things with foam and gauze, cover us in layers of jumpers and gloves, ban sharp objects and open flames. We camped out together in the living room for eight days, until the carefully ordered takeaway food – delivered on the doorstep and furtively retrieved by my mother, who hadn't thought how she would cook meals without the help of our gas oven – gave us all food poisoning and we spent the next twenty-four hours in hospital. Now every autumn we stock up on bandages and painkillers; we buckle up, we batten down. We never leave the house without at least three protective layers. We're afraid of the accident season. We're afraid of how easily accidents turn into tragedies. We have had too many of those already.
ALICIA: Moïra, thank you so much for stopping by and chatting with us today, and I'm soooo excited to see what else you come up with next! :)
PRIZE: ONE Winner will receive an ARC of
THE ACCIDENT SEASON by

Moïra Fowley-Doyle

.
CONTEST RUNS: August 14th, 2015 to August 30th, 2015 11:59pm
OPEN TO: International.
HOW TO ENTER: Please enter using the Rafflecopter Giveaway below.
TERMS AND CONDITIONS: ONE winner will be randomly chosen through the Rafflecopter. The winner will be contacted by email, then they will have 48 hours to respond before a new winner is picked. I reserve the right to disqualify anyone who does not follow the rafflecopter's instructions.
a Rafflecopter giveaway
{WEBSITE} {GOODREADS} {TWITTER}
My Friends are Fiction – Interview - 8/10
A Midsummer Night's Dream – Review & giveaway - 8/11
Words Like Silver – Mood board & review - 8/12
My Book Muse – Guest Post - 8/13
Addicted Readers – Interview - 8/14
The Eater of Books! – Guest Post - 8/17
Jessabella Reads – 10 Random Things - 8/18
It Starts at Midnight – Review & Giveaway - 8/19
The Reading Date – Review - 8/20
Once Upon a Twilight – Interview - 8/21
Event Organized By: