is a Weekly event hosted by Jill @ Breaking The Spine that spotlights upcoming releases that we're eagerly anticipating. If it sounds like something your interested in, then head over the Breaking The Spine and Sign-up!
Hey Guys,
I hope everyone is having a fantastic week so far?
This weeks WoW is either a standalone or the first book in series. I'm not sure which but it sounds fantastic and I can't WAIT to check it out! Anyways, check out this weeks WoW, and don't forget to link me up to yours and I'll come visit you!
The August Five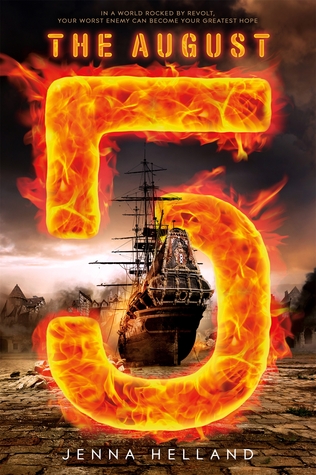 In this debut novel, two worlds collide amid clashes of power, honor, and what it truly means to be brave.

Tommy Shore is the son of the most important man on Aeren—a high-ranking politician who wants nothing more than to take away all of the rights of the lower-class cottagers. Tamsin Henry is the daughter of a revolutionary man who has hopes of overthrowing the corrupt politicians, also called the Zunft, the group that holds all the power in this world.

The two sides clash when Tommy rescues Tamsin during the August Rising, a cottager attack organized by a group of rebels known as the August Five. He starts to question the motives of the Zunft and realizes that it will take all of his resolve to stand up to his father and fight for the rights of those who have none.
This book sounds absolutely fantastic! And the cover looks just as epic as the synopsis sounds! I love me a good dystopian book and I haven't read a good one in a while, and this one sounds right up my bookish alley!! Come on November 10th, 2015, I'm Waiting on ya!! ;)
Does this sound like something you would read?
Let me know in the comment section and I'll come visit YOU! :)
What about you? What are YOU waiting on?
Link me up so I can come see what your desperately waiting on!