HIDDEN HUNTRESS
Danielle L. Jensen
(The Malediction Trilogy #2)
Published: June 2nd, 2015
Genres: YA Paranormal, Fantasy
Sometimes, one must accomplish the impossible.

Beneath the mountain, the king's reign of tyranny is absolute; the one troll with the capacity to challenge him is imprisoned for treason. Cécile has escaped the darkness of Trollus, but she learns all too quickly that she is not beyond the reach of the king's power. Or his manipulation.

Recovered from her injuries, she now lives with her mother in Trianon and graces the opera stage every night. But by day she searches for the witch who has eluded the trolls for five hundred years. Whether she succeeds or fails, the costs to those she cares about will be high.

To find Anushka, she must delve into magic that is both dark and deadly. But the witch is a clever creature. And Cécile might not just be the hunter. She might also be the hunted…
{AMAZON} {BARNES & NOBLE}
DON'T MISS THE REST OF THE SERIES: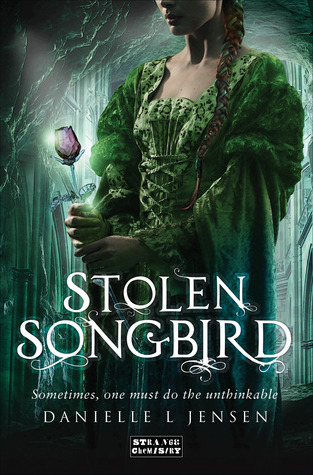 Check out my 5 Star review of book one, STOLEN SONGBIRD HERE!!
ALICIA: Hi Danielle I am SO honored to have you here today on Addicted Readers! :)

DANIELLE: I'm thrilled to be here!



ALICIA: 1.) Can you tell us where your inspiration for THE MALEDICTION TRILOGY came from? And do you think the finished books in the series turned out to be what you planned on, or did it change from what you initially mapped out for it?


DANIELLE:
The inspiration for STOLEN SONGBIRD was a dream I had about a beautiful city that had been buried by rock. The setting stuck in my head, and the story built itself as I thought about how the city came to be buried, who would live there, how they would survive, and why they would choose to stay. The mountain itself is inspired by a real place, which you can read about
here
.
The political plotlines in STOLEN SONGBIRD developed during editorial work, so that was one big change from how I originally envisioned it. HIDDEN HUNTRESS is much darker and moodier than I'd planned, but I think it's better for it. I'm still writing book 3, so it's too soon to say whether it will turn out how I expect, but I'm hoping for lots of action.
ALICIA: 2.) What was the most challenging, and the most enjoyable aspect of writing HIDDEN HUNTRESS, and why?


DANIELLE: The biggest challenge I had to overcome was my anxiety over delivering a sequel that would meet the expectations of STOLEN SONGBIRD fans – my biggest fear is disappointing readers. The most enjoyable part of the process was being able to write more from Tristan's point of view. I think about 40% of the novel is through his eyes, and that was a lot of fun for me.
ALICIA: 3.) Do you free write by writing whatever comes to mind, or do you map and plot everything out before you sit down to write?


DANIELLE:
I prefer not to outline, because I find it really interrupts my flow when I'm writing. I also find that outlines suck a bit of the joy out of drafting, because I already know what happens. It is more fun for me to "discover" what happens as I'm writing, if that makes sense.
ALICIA: 4.) Can you tell us five random things about you?


DANIELLE:
- I'm a terrible cook

- I'm really awkward when I meet new people because I'm nervous, but people often interpret that as snobbishness.

- I hate calling people on the phone, especially strangers

- I never have gas in my car, and I drive for a shockingly long time with the fuel light on. Hasn't caught up with me yet!

- I refused to watch The 100 for the longest time because I thought the first episode was terrible. But on the urging of Twitter, I kept watching, and now it is my favourite show.
ALICIA: 5.) If you could describe HIDDEN HUNTRESS in 15 words or less, what would they be?


DANIELLE:
It's about making tough choices that have consequences no matter which way the characters turn.

ALICIA: 6.) I LOVE the idea of the Trolls in this series. But I have to admit I was a little reluctant to read STOLEN SONGBIRD for picturing the ugly Trolls I've seen on Tv...lol! But when I realized how appealing and amazing some of them were, I was in love with the idea!! So can you share with us why you decided to have Trolls as your supernatural creature in THE MALEDICTION TRILOGY, and not your average creature?


DANIELLE:
The trolls created themselves as I tried to figure out what sort of creatures would live under a fallen mountain and why. I called them trolls primarily because of the preconceptions that go along with the word and my desire to subvert the ugliness = evil and beauty = good trope. That's the reason why Marc, who is arguably the kindest of the trolls, is also the most deformed, and Roland, who is a beautiful child, is the most evil. One of the most often quoted lines from STOLEN SONGBIRD sums it up nicely: "I think it is our nature to believe evil always has an ugly face," he said, ignoring my question. "Beauty is supposed to be good and kind, and to discover it otherwise is like a betrayal of trust. A violation of the nature of things."
ALICIA: 7.) Who was your most favorite character in THE MALEDICTION TRILOGY, and why?


DANIELLE:
In STOLEN SONGBIRD, my favourite characters were Marc, because he's such a sweet guy, and Anaïs, because she's badass. In HIDDEN HUNTRESS, I'm all about the villains, especially the King. I love coming up with great backstories for why the bad guys are the way they are, and I really enjoyed developing the King's character in this novel.
DANIELLE'S FAVORITES:




1.) Favorite book?
DRAGONSBANE by Barbara Hambly


2.) Favorite author?
Maggie Stiefvater


3.) Favorite book character of all time?
Silk, from David Eddings' The Belgariad and The Malloreon series. He's a spy, a thief, and a prince.


4.) Favorite supernatural creature?
Dragons


5.) Favorite book genre?
Epic fantasy


6.) Favorite movie?
The Two Towers


7) Favorite actor/actress?
Natalie Dormer


8.) Favorite song?
Costa Rica


10.) Favorite writing place?
In my office or on my bed


11.) Favorite me time thing?
A bath and a book


12.) Favorite food?
Nachos


13.) Favorite season?
Summer


14.) Favorite holiday?
Christmas


15.) Favorite animal?
Horses
ALICIA: Danielle, it's been a blast chatting with you today. I'm so excited to start HIDDEN HUNTRESS and can't WAIT to continue this series soon! ;) Good luck with it's release, I just know it's going to be a HUGE hit!! :)
CONTEST RUNS: June 2nd, 2015 to June 22nd, 2015 11:59pm
OPEN TO: International as long as Books Depository ship to you. See complete shipping list HERE.
HOW TO ENTER: Please enter using the Rafflecopter Giveaway below.

TERMS AND CONDITIONS: ONE winner will be randomly chosen through the Rafflecopter. The winner will be contacted by email, then they will have 48 hours to respond before a new winner is picked. I reserve the right to disqualify anyone who does not follow the rafflecopter's instructions.



Danielle was bon and raised in Calgary, Canada. At the insistence of the left side of her brain, she graduated in 2003 from the University of Calgary with a bachelor's degree in finance. But the right side of her brain has ever been mutinous; and in 2010, it sent her back to school to complete an entirely impractical English literature degree at Mount Royal University and to pursue publication. Much to her satisfaction, the right side shows no sign of relinquishing its domination.