Waiting On Wednesday
is a Weekly event hosted by Jill @ Breaking The Spine that spotlights upcoming releases that we're eagerly anticipating. If it sounds like something your interested in, then head over the Breaking The Spine and Sign-up!
Hey Guys,

I hope everyone is having a fantastic week so far?
This weeks WoW is the last book in a trilogy that I can't WAIT to see how it ends!! Anyways, check out this weeks WoW, and don't forget to link me up to yours and I'll come visit you!
Endure #3
(
Defy #3)
Published: January 5th, 2016
Genres: Young Adult, Fantasy
T

The remarkable third novel in Sara B. Larson's bestselling Defy series!

At last, Alexa and King Damian are engaged to be married. But their lives are far from safe. The kingdom of Antion is under siege, and Rylan is a prisoner of the enemy. Even worse, Alexa remains at the mercy of the evil Dansiian Rafe, who controls her mind and can force Alexa to kill or harm Damian at any moment. Despite this, Alexa is determined to rescue Rylan, which soon leads her far from Damian and deep into enemy territory.

When she arrives, what awaits her is deadlier than anything she could have ever imagined: an army of black sorcerers, and a horrifying plot to destroy the world as Alexa knows it. Will she be able to gather the strength to free herself, protect the love of her life, and save the land? Will there ever be true peace?

Acclaimed author Sara B. Larson has woven a stunning, romantic, and evocative finale to the Defy trilogy, that is sure to leave readers breathless until the very last page.
SEE HOW IT ALL STARTED...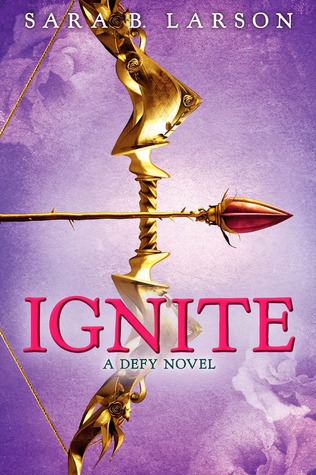 Check out my review of book one, DEFY HERE, & my review of book two, IGNITE HERE!
First, can we take a minute just to appreciate that stunning cover??? Isn't it GORGEOUS??? I absolutely love it!! I'm not sure if it's my favorite in the whole trilogy, but nevertheless, I LOVE IT!!

But the sexy covers are not the reason I'm obsessed with this series!! I adore this world and the characters, and all of the struggles and hardships they endure, and their strength and determination, and of course, the ROMANCEEEE... is breathtakingly perfect. I can't WAIT to get my hands on this highly anticipated conclusion that I KNOW will rock my book world to the very core...
Does this sound like something you would read?
Let me know in the comment section and I'll come visit YOU! :)
S

Sara's debut YA fantasy novel, DEFY, released in January of 2014 from Scholastic. The sequel will come out in early 2015--stay tuned for announcements about the title, cover, and synopsis! Sara lives in Utah with her husband and three young children. She writes during naptime and the hours when most people are sleeping. Her husband claims she should have a degree in "the art of multitasking." On occasion you will find her hiding in a bubble bath with a book and some Swedish Fish or some mint chocolate truffles. She is represented by Josh Adams of Adams Literary.
{
WEBSITE} {GOODREADS} {TWITTER} {FACEBOOK}