Welcome to my stop in the SPELLED
by
Betsy Schow Blog Tour hosted by The Fantastic Flying Book Club. Today on my stop we have an Guest Post + an awesome Tour-Wide Giveaway!!!
Spelled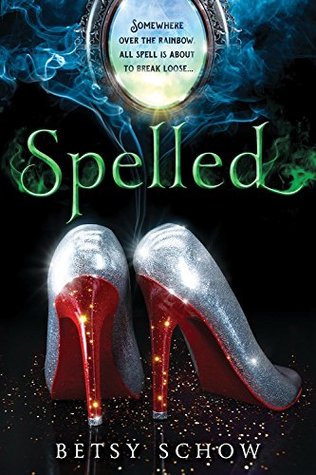 SPELLED

by Betsy Schow
Publisher: Sourcebooks Fire
Release Date: June 2nd 2015
Fairy Tale Survival Rule #32: If you find yourself at the mercy of a wicked witch, sing a romantic ballad and wait for your Prince Charming to save the day.

Yeah, no thanks. Dorthea is completely princed out. Sure being the crown princess of Emerald has its perks—like Glenda Original ball gowns and Hans Christian Louboutin heels. But a forced marriage to the brooding prince Kato is so not what Dorthea had in mind for her enchanted future.

Talk about unhappily ever after.

Trying to fix her prince problem by wishing on a (cursed) star royally backfires, leaving the kingdom in chaos and her parents stuck in some place called "Kansas." Now it's up to Dorthea and her pixed off prince to find the mysterious Wizard of Oz and undo the curse...before it releases the wickedest witch of all and spells The End for the world of Story.
~ The path at
becoming an author ~
You'll often hear us writers say that we feel a bit schizophrenic at times, with dozens of voices in our heads at any given moment. Voices clamoring impatiently for their story to put on the page. However, to be a successful author—heck, successful anything—there is one voice that you must absolutely tune out. It's the one that says, "You suck." It's the one that tells you to, "Give up." It's the one that's hardest to ignore because it comes from your harshest critic—you.

I can't even count how many times in my life I've put pen to paper, thinking This is gold. Only the next day when I reread it the little demon whispers in the back of my mind and begs to differ. This is trash. If you let anyone else read this, they'll only laugh at you. From there, I'd hide the paper at the very bottom of the desk drawer knowing that my 6th grade diary had a better chance of seeing the light of day than my latest story attempt.

Like a candle being snuffed out, for each work of story, art, music, creation that never gets finished or shared, a bit of light is stolen from our world. All because this same thief, this conniving little voice lives within each of us and tricks us into thinking that the works we've created aren't good enough. That we aren't good enough.

So my advice—kill your inner critic. Shut it down, drown it out, throw it into a vat of radioactive slime, feed it to a sparkly-abbed vampire. Whatever. If you're not a cold-blooded killer yet, (it takes practice and that nagging little demon has more lives than Grumpy Cat), fight back. The surest way to get rid of a bully is to not give it what it wants. Don't let your inner voice stop your creativity in its tracks. Improvement takes time and consistency of effort. "Talent" is often a clever disguise for hard work.

I am a successful author because I wrote the story that was inside me, the one that kept me up at night. If it was never published, if no one else read it but my family, I would still be a success. (Though just for the record, my publisher would like me to add that they still highly recommend you buy Spelled since it's really funny and they'd like to stay in business.) That being said, the only way to fail as a writer is to stop writing.

Your happy ever after is out there. It's just waiting for you to buckle down and write it.
Follow the Spelled by Betsy Schow Blog Tour and don't miss anything! Click on the banner to see the tour schedule.
BETSY SCHOW is the TODAY Show featured author of the non-fiction book, Finished Being Fat; however she's been mixing up real life and fantasy for as long as she can remember. If someone were to ask about her rundown truck, she's 100% positive that mechanical gremlins muck up her engine. And the only reason her house is dirty is because the dust bunnies have gone on strike. She lives in Utah with her own knight in geeky armor and their two princesses (that can totally shapeshift into little beasts). When not writing, she acts as the Tournament Director for Odyssey of the Mind and helps teach kids creative thinking (or how to turn their toasters into robots).

Her debut novel, Spelled, comes out June 2015 from Sourcebooks. She is represented by Michelle Witte, Mansion Street Literary Agency.