The Infinite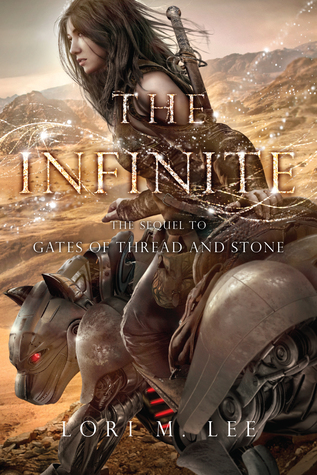 THE INFINITE
Lori M. Lee
(Gates Of Thread And Stone #2)
Published: March 10th, 2014
Genres: YA, Time Travel, Sci-f
The walls of Ninurta keep its citizens safe.

Kai always believed the only danger to the city came from within. Now, with a rebel force threatening the fragile government, the walls have become more of a prison than ever.

To make matters worse, as Avan explores his new identity as an Infinite, Kai struggles to remind him what it means to be human. And she fears her brother, Reev, is involved with the rebels. With the two people she cares about most on opposite sides of a brewing war, Kai will do whatever it takes to bring peace. But she's lost her power to manipulate the threads of time, and she learns that a civil war might be the beginning of something far worse that will crumble not only Ninurta's walls but also the entire city.

In this thrilling sequel to Gates of Thread and Stone, Kai must decide how much of her humanity she's willing to lose to protect the only family she's ever known.
A fast-paced, action-packed thrill-ride, full of magic, betrayals, and shocking revelations, THE INFINITE is a steaming hot read that's not to be missed!

Now this is what I am talking about!! THE INFINITE was just the sequel I was hoping for!! This sequel was nearly perfect, and sooooo much better then THE GATES OF THREAD AND STONE!! Book one was seriously lacking (See my review HERE) on many aspects. But THE INFINITE has sealed my faith in this series and has me more invested then I thought I would ever be after reading this book. It did have a few hiccups along the way, but nothing to drastic to defer my love and overall enjoyment from this book.

THE INFINITE was a tornado of betrayals, with back stabbing and shocking revelations along the way. And I have to admit, one particular betrayal I did NOT see coming at all. And I was more then a little hurt by the duplicity. The world building was evenly plotted with the right amount of treachery and power-wavers, magic, and rebels, and wild beastly animals to keep the plot interesting and not have to much of one aspect going on for too long. And I really liked that about this book, things were always changing―loyalties, friendships, betrayals, hearts, atmospheres, and so on... And it was refreshing to get such a complex and entertaining follow-up from this series. Bravo Lori M. Lee, well done with this explosive second installment to the GATES OF THREAD AND STONE Series!!!

As for the characters, Kai pretty much stayed the same as she did in book one, though I did find myself warming up more to her sharp personality. But other then that there wasn't much character growth or regress in her personality. But just like the first book, Kai was willing to throw herself in the heart of danger to save the ones she loves. And I've always enjoyed that about Kai, and it was no exception in this book.

Now Avan was a totally different character then he was in the first book. And I really had my qualms about him from the very beginning, and was in a way let down with his drastic change. Even though I knew it was crucial to the plot, I still didn't like it. With Avan dying and being reborn as an Infinite, he lost all sense of himself and his humanity. But he still managed to have this strange love for Kia, and his protective instinct to keep her safe, but that was about it. He thinks other humans below the Infinite, and not capable of thinking for themselves. And that was a big change from book one and a HUGE turn off too. Because I absolutely LOVED Avan soooooo much in the first book, but not so much in this one. I REALLY hope Kai weaves his memory threads and he get the pieces of himself back, because if not, MASON he we come...

There was a slight lean towards a possible love triangle. But by the end of THE INFINITE, I think it's pretty clear it isn't going anywhere. But I have to admit that I was entertaining the thought of Kai ending up with Mason, especially with my loss of love for Avan. And I've ALWAYS loved Mason. From book one I found him an awesome side character with strong development with fierce and lovable character traits that quickly pulled me to him. I think he would be great for Kai. But then again, if Avan returned to his former self from book one, I think I would probably prefer Avan over Mason. But if Avan doesn't pull that cork out of his ass, and start acting like the sweet, sexy, slightly timid, but strong Avan that I knew and loved from book one, oh well, then he'll continue to lose my love for good this time!!! And that would be heartbreaking in the least!!



THE PLOT



Kai is now living in the White Court after her battle and defeat over Ninu, The City of Ninurta's last Kahl before she killed him and severed his complete control over the Sentinels, including her brother Reev. She's still trying to cope with all she's been though and adjust to how much her life has changed since that encounter that made her take a life, even one as vile and dangerous as Ninu, but it still haunts her.

But as much as Kai tries to deal with everything in the aftermath of her victory, their is one thing she just cannot adjust too, and that is the drastic change in her long time crush and love of her life Avan. After he was killed and brought back to life as an Infinite with tremendous power pulsing at his finger tips, he has changed, and she's seeing this new Avan with different eyes. She feels in more ways then one that she failed him, and now with no memories of her at all, and Avan's humanity all but gone, Kai just doesn't know how to handle that, and if she should just let him go, or fight for something that may never be again. Until Kai is forced to face this new Avan head on, and she horrifyingly realizes just how much this Avan has changed from her sweet, lovable, shy, but strong and protective Avan that she knew and loved. And she has no choice but to face the facts that he is gone, for good...

But her problems with Avan become a back thought as a new threat is brought to the gates of The City of Ninurta, and they're shocked with the reality that their not alone, their is more life outside their walls, and they're in dire need of Ninurta's aid. Kai is opted to be at the forefront of it all since she saved the City from ultimate downfall at Ninu's hands by defeating him and restoring control back to the Sentinels and the people.

But Kai could have never been prepared for what's to come on this epic journey across the void to this mysterious city in need of help. And Kai quickly learns she'll need every bit of strength and power she possess to overcome and beat this new threat at the City. And to face all the threats that just keep coming and coming.

THE INFINITE was really an awesome sequel that I highly enjoyed. From it's fresh plot, to it's new betrayals, and shocking twist, and tremendous personality change. THE INFINITE did not disappoint, and has me yearning for Kai's next journey and what she'll endure next.

Overall, THE INFINITE delivered way more then I anticipated after it's lacking predecessor. And definitely opened my eyes to the lengths this series can go and has me looking at Lori M. Lee in a new light. I highly recommend this book, and if you can get through book one then I think you'd be surprised at how much this sequel delivers and brings a whole new twist to this world. I can't wait to read the third book and see where it all goes next and if Kai will embrace her Infinite heritage and become the strong, powerful being she was really born to be...

NOTE: I received a eARC from Skyscape for reviewing purposes! All opinions expressed are my own and are not influenced in any way!
4 Stars
Lori is an avid writer, reader, artist, and lover of unicorns. She should probably spend less time on the internet (but she won't). She has a borderline obsessive fascination with unicorns, is fond of talking in capslock, and loves to write about magic, manipulation, and family. She lives in Wisconsin with her husband, kids, and a friendly pitbull.
{WEBSITE} {GOODREADS} {TWITTER} {FACEBOOK}