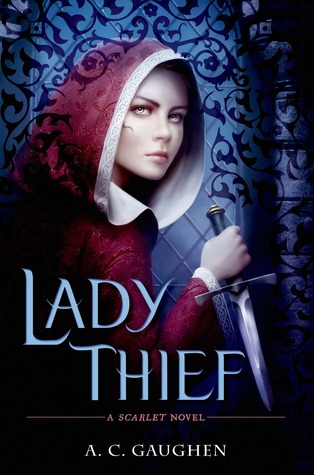 LADY THIEF
(Scarlet #2)
A.C. Gaughen
Published: February 11th, 2014
Genres: YA, Historical, Retellings
Scarlet's true identity has been revealed, but her future is uncertain. Her forced marriage to Lord Gisbourne threatens Robin and Scarlet's love, and as the royal court descends upon Nottingham for the appointment of a new Sheriff, the people of Nottingham hope that Prince John will appoint their beloved Robin Hood. But Prince John has different plans for Nottingham that revolve around a fateful secret from Scarlet's past even she isn't yet aware of. Forced to participate at court alongside her ruthless husband, Scarlet must bide her time and act the part of a noblewoman—a worthy sacrifice if it means helping Robin's cause and a chance at a future with the man she loves.

With a fresh line of intrigue and as much passion as ever, the next chapter in Scarlet's tale will have readers talking once again.
WARING!!!
SPOILERS BELOW IF YOU HAVE NOT READ BOOK ONE, SCARLET.

YOU'RE WARNED!!!
READ AT YOUR OWN RISK OF SPOILER
Y...;)
LADY THIEF was a thrilling follow-up to the Robin Hood retelling that swept us into a world of danger, mystery, political intrigue, an evil prince threatening to bring their kingdom and people to ruins, and heroic acts determined to bring Nottingham to it's rightful place of peace, security and prosperity!!

LADY THIEF was filled with such shocking surprises for me. I mean, I was literally SHOCKED at the direction that it took. But nevertheless I LOVED the way it turned out. But honestly, I don't know why I didn't see it all coming, because once it was all laid out on the table, it all fit together like a jigsaw puzzle with all the right pieces.

But one thing I was a little taken aback by was the drastic change in Scarlet's personality. Though at the same time, I knew she had to do and act the way she did in order to survive the situation that she found herself in. But what I didn't care for was Rob's situation with the disturbing dreams he was having. It was a little too much and it went a little overboard, and really felt meaningless. I would of liked to see Rob go through the motions of his pain and working through his demons, but just in a little less dramatic way. It just didn't fit well with his character and not the way you would think to see Rob acting, even if he was enduring something like that. It just felt out of the boundaries of his character traits, and by the end of the book it got to be a little annoying...



THE PLOT



Scarlet's world rages fire when her buried secrets are finally discovered and revealed to all of Nottingham. She's desperately tried for years to keep her true identify a secret from everyone, even the band of boys that have become her new-found family. For surly if they knew the real truth about who she really was, they would be as repulsed with her as she is with herself. Or would they...?

Scarlet craves the freedom that comes with being just "Scar", and loathes the obligations that her birth given name holds. And she is determined to stay Scar and continue just being one of the boys in the band―wrecking havoc on the guards and all who bring trouble to people of Nottingham. But when Lord Gisbourne, her long-lost fiancé now turned husband, tracks her down again after their last confrontation left their town sheriff dead, and their town in an uproar, she's positive she'll turn down his insane offer and stay with Rob, continuing the fight from the shadows. But when Gisbourne's offer becomes to good to be true, with hopes of a marriage annulment in exchange for the charade of her becoming his dutiful wife while prince John is in Nottingham selecting a new Sheff, she starts second guessing her decision to stay with Rob, and tempted to once again become the noble that she thought died the day she left her life behind...

With hope dwindling by the day, and limited options of becoming free of her lunatic husband, and zero hope of electing Rob as the towns new sheriff, Scarlet see's no other choice but to concede and give into Gisbourne's sick desires to play his game of wifey. All while secretly trying to breakdown the nobles defenses from the inside to help their cause and find away to place Rob, her beloved as the towns new sheriff, and ultimately save their people from having to endure the wicked wrath of yet another evil sheriff out for his own viscous gain. So reluctantly, with a heavy heart and weary mind, she accepts his offer and is finally locked back into the world of nobility...

But everything they've worked for starts to slowly unravel when prince John returns and brings his wicked wrath and vengeful heart to the town of Nottingham, and unleashes his hate and fury on the innocent people. And for the first time in a long time, Scarlet doubts herself and her capabilities in saving the people, including herself and her beloved Robin Hood. The full extent of their situation is looking more and more like their ultimate downfall if she doesn't find a way to stop Prince John before he finds a way to silents them all once and for all....

But Scar cannot be beaten down that easy, no, she's a fighter, and stronger then all that. Stronger then her evil husband and wicked prince that are slowly trying to tear them down from the inside out. But when hidden secrets from Scarlet's past that even she didn't know about come to light, they threaten to bring prince John's world crashing down around him, as anger, turmoil and jealousy consume him. And now Scarlet is finally starting to understand just why prince John is so threatened by her. And that she herself holds the future of Nottingham and their people in her hands. But is she really able to rise up from her downfalls and defeat this the ones wrecking havoc in Nottingham, and restore back the peace and freedom to her people that they so desperately need...?

Phewww, that was such a blast reading this book, and I did really enjoy LADY THIEF a lot. And I can't wait to finish this trilogy and see how it all ties up in the end. And if Scar is finally able to overcome all her demons within and beat prince John and his evil villains once and for all.

Overall, if you've read the first book SCARLET, then you should definitely enjoy this follow-up. It's full of shocking reveals, thrilling anticipation, heart-pounding action, and unforgettable love, with ultimate betrayals. I really, REALLY enjoyed this book, and I am so excited for the finale. Book three here I come...;)
4 Bone Hearts
I am shamelessly addicted to staying up far too late (it feels like stealing time), diet coke (it burns so good), Scotland (stupid country stole my heart and won't give it back. Interpol has been ineffective for prosecution) and thieves (so I guess I'm not that mad at Scotland).

Want to know more? Just ask!
{WEBSITE} {GOODREADS} {TWITTER} {FACEBOOK}