A themed tour with Prism Book Tours.

We're announcing the BOOK TOUR for

~~~ Dearest ~~~
By Alethea Kontis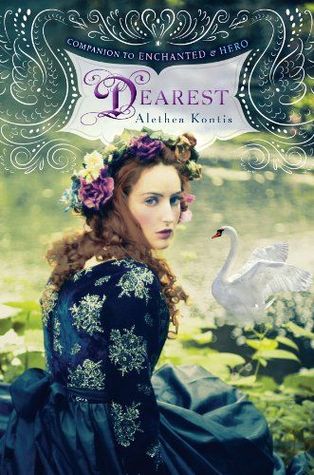 Dearest
(Woodcutter Sisters, #3)
by Alethea Kontis
Genres: YA Fantasy
Hardcover & ebook, 320 Pages
February 3rd 2015 by HMH Books for Young Readers
"A fabulous fairy-tale mashup that deserves hordes of avid readers. Absolutely delectable." —Kirkus Reviews, starred review of award-winning series debut Enchanted

Readers met the Woodcutter sisters (named after the days of the week) in Enchanted and Hero. In this delightful third book, Alethea Kontis weaves together some fine-feathered fairy tales to focus on Friday Woodcutter, the kind and loving seamstress. When Friday stumbles upon seven sleeping brothers in her sister Sunday's palace, she takes one look at Tristan and knows he's her future. But the brothers are cursed to be swans by day. Can Friday's unique magic somehow break the spell?
Amazon - Barnes & Noble - Book Depository - Indie Bound - Powell's
Enchanted
(Woodcutter Sisters, #1)
by Alethea Kontis
Genres: YA Fantasy
Hardcover & ebook, 308 Pages
May 8th 2012 by Harcourt Children's Books
It isn't easy being the rather overlooked and unhappy youngest sibling to sisters named for the other six days of the week. Sunday's only comfort is writing stories, although what she writes has a terrible tendency to come true.

When Sunday meets an enchanted frog who asks about her stories, the two become friends. Soon that friendship deepens into something magical. One night Sunday kisses her frog goodbye and leaves, not realizing that her love has transformed him back into Rumbold, the crown prince of Arilland—and a man Sunday's family despises.

The prince returns to his castle, intent on making Sunday fall in love with him as the man he is, not the frog he was. But Sunday is not so easy to woo. How can she feel such a strange, strong attraction for this prince she barely knows? And what twisted secrets lie hidden in his past - and hers?

Amazon - Barnes & Noble - Book Depository - Indie Bound - Powell's
Hero
(Woodcutter Sisters, #2)
by Alethea Kontis
Genres: YA Fantasy
Hardcover & ebook, 304 Pages
October 1st 2013 by Harcourt Books
Rough and tumble Saturday Woodcutter thinks she's the only one of her sisters without any magic—until the day she accidentally conjures an ocean in the backyard. With her sword in tow, Saturday sets sail on a pirate ship, only to find herself kidnapped and whisked off to the top of the world.

Is Saturday powerful enough to kill the mountain witch who holds her captive and save the world from sure destruction? And, as she wonders grumpily, "Did romance have to be part of the adventure?"

As in Enchanted, readers will revel in the fragments of fairy tales that embellish this action-packed story of adventure and, yes, romance.
Amazon - Barnes & Noble - Book Depository - Indie Bound - Powell's
GUEST POST:
Seamstress Extraordinaire
By Alethea Kontis

In the Woodcutter series, I had to coin the phrase "Seamstress Extraordinaire," because the publisher did not like that I called Yarlitza Mitella a Master Seamstress. They asked if I could change it to Mistress...but a Master at a craft is not a Mistress, no matter what their sex. There are female Jedi Masters, for heaven's sake. All the D&D Guild Masters--men or women--were Masters.

In my mind, Yarlitza Mitella is still a Master. It made sense that Friday, my Woodcutter Sister with the magic needle, should be her apprentice. And then that oaf Saturday Woodcutter called the ocean and separated them, washing Friday upon a strange shore.

Ultimately, this turned out to be a useful plot device. Like Friday, I have no formal training in sewing or weaving...not that it's ever stopped me from hemming a curtain, mending an old seam, or darning a sock. (Does anyone darn socks anymore?) The most complicated thing I ever did was sewing my first costume for the Renaissance Faire...and even then I had a huge amount of help from my mother.

I selected all the wrong cloth (cheap, heavy and/or stretchy material that was hard to work with and then hot to wear), but we still made it work. I was thrilled with the result, because I HAD CREATED SOMETHING.

I knew when I started writing Friday's novel that I was going to have to dig a little deeper into the crafts of sewing and weaving. While writing the first ballroom scene in Enchanted, I just so happened to be at Sherrilyn Kenyon's house, with her vast reference library (and Sherrilyn a Medievals Master herself), so I had lots of help with the styles and proper materials to reference.

But in Dearest, Friday has to WEAVE, in a serious way. Not only that, she has to weave stinging nettles into flax similar to the way Hans Christian Andersen outlined (in fairly specific detail) in "The Wild Swans."

I spent loooong time doing online research about nettles and nettle fibers. I read a bunch of WikiHows and watched a boatload of videos about weaving. Did you know that nettles are edible and nutritious? Many things can be made from nettles, like nettle tea, which has an interesting pH balance (a lemon will change nettle tea from dark green to pink) that piqued my inner Chemistry nerd. It was probably an entire week of self-taught Nettles 101, and I tried to follow all the details to the letter.

I will admit to one flaw in my storytelling: Enchanted happens in the Spring; Hero and Dearest happen in the Fall...which is the wrong time to properly harvest nettles for all these uses. I made a half-hearted mention of this in the text, and then had my characters use them anyway. (My sincerest apologies to all the nettle scholars out there!)

I encourage you all to do your own research into nettles and weaving...there are some fascinating resources out there. Make yourself some fairy tale tea and enter it in the science fair!

My next sewing project? Making my own patchwork skirt, Just like Friday Woodcutters. Luckily, one of my fans is a Master Seamtress (thank you, Heather!) and she made a patchwork skirt for me to wear on book tour, but I'd really love to put one together myself. Someday...

So, any other Master Sewists out there?

Alethea Kontis courtesy of Lumos Studio 2012
New York Times bestselling author Alethea Kontis is a princess, a fairy godmother, and a geek. She's known for screwing up the alphabet, scolding vampire hunters, and ranting about fairy tales on YouTube.

Her published works include: The Wonderland Alphabet (with Janet K. Lee), Diary of a Mad Scientist Garden Gnome (with Janet K. Lee), the AlphaOops series (with Bob Kolar), the Woodcutter Sisters fairy tale series, and The Dark-Hunter Companion (with Sherrilyn Kenyon). Her short fiction, essays, and poetry have appeared in a myriad of anthologies and magazines.

Her YA fairy tale novel, Enchanted, won the Gelett Burgess Children's Book Award in 2012 and the Garden State Teen Book Award i 2015. Enchanted was nominated for the Audie Award in 2013, and was selected for World Book Night in 2014. Both Enchanted and its sequel, Hero, were nominated for the Andre Norton Award.

Born in Burlington, Vermont, Alethea currently lives and writes in Florida, on the Space Coast. She makes the best baklava you've ever tasted and sleeps with a teddy bear named Charlie.
Website - Goodreads - Facebook - Twitter - YouTube - Tumblr - Instagram - Pinterest
Tour-Wide Giveaway
Ends March 8th
Grand Prize Pack (US Only