is a weekly bookish meme hosted by MizB @ Should Be Reading, where you share one to two teasers from your current book. Sound like something your interested in?
Then do the following:
Grab your current read. Open to a random page
Share 2 "Teaser" Sentences from somewhere on that page.
BE CAREFUL NOT TO INCLUDE SPOILERS! Make sure that what you share doesn't give too much away! You don't want to ruin the book for others!
Share the author & Title too, so that other TT participants can add the book to their TBR list if they like your Teaser!
Hey Guys,

I hope everyone had a wonderful weekend?
Mine was great, busy, but great! Preparing for the holidays is so much fun, but can be so tiresome. Especially battling for presents at stores with other shoppers out for blood when they don't get what they want!
Anyways, check out this weeks TT and let me know what you think in the comment section. Be sure to link me up to your TT or weekly memo so I can come visit you.
Here's My #79th Teaser Tuesday From
PRINCESS OF THORNS
!
Princess Of Thorns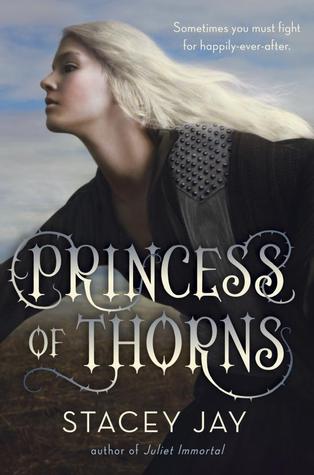 Princess Of Thorns
Stacey Jay
Published: December 9th, 2014
Genres: YA, Fantasy, Retellings
Game of Thrones meets the Grimm's fairy tales in this twisted, fast-paced romantic fantasy-adventure about Sleeping Beauty's daughter, a warrior princess who must fight to reclaim her throne.

Though she looks like a mere mortal, Princess Aurora is a fairy blessed with enhanced strength, bravery, and mercy yet cursed to destroy the free will of any male who kisses her. Disguised as a boy, she enlists the help of the handsome but also cursed Prince Niklaas to fight legions of evil and free her brother from the ogre queen who stole Aurora's throne ten years ago.

Will Aurora triumph over evil and reach her brother before it's too late? Can Aurora and Niklaas break the curses that will otherwise forever keep them from finding their one true love?
~ Chapter 1 ~ Page 3 ~
AURORA



Prophecy foretells that in the last days of the Long Summer, the Age of Reaping will dawn with the rise of the living darkness. The four kingdoms will dwell in shadow, and the souls of man feed the First One's hunger for a hundred years.
~ Chapter 18 ~ Page
239 ~
THE OGRE QUEEN:





The souls within rage like a tempest that will shatter us from the inside out. Our minds reels, our heart burns with a cold fire that leaves us trembling on the floor of our chambers, shivering as Illestros covers us with a blanket, but the blanket will not warm us. We are lost, staggering in the blinding light of an eternal dawn, alone with our failure and our shame.
Stacey Jay is a recovering workaholic (or at least working hard at recovering) with three pen names, two small children, and a passion for playing pretend for a living. She's been a full time mom-writer since 2005 and can't think of anything she'd rather be doing. Her former careers include theatre performer, professional dancer, poorly paid C-movie actress, bartender, waiter, math tutor (for real) and yoga instructor.
Look out for my review of PRINCESS OF THORNS
coming soon!

Do you have a Teaser Tuesday? If so, link me up so I can come check out your TT or weekly memo.