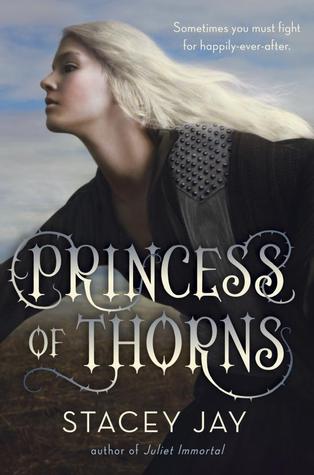 Princess Of Thorns
Stacey Jay
Published: December 9th, 2014
Genres: YA, Fantasy, Retellings
Game of Thrones meets the Grimm's fairy tales in this twisted, fast-paced romantic fantasy-adventure about Sleeping Beauty's daughter, a warrior princess who must fight to reclaim her throne.

Though she looks like a mere mortal, Princess Aurora is a fairy blessed with enhanced strength, bravery, and mercy yet cursed to destroy the free will of any male who kisses her. Disguised as a boy, she enlists the help of the handsome but also cursed Prince Niklaas to fight legions of evil and free her brother from the ogre queen who stole Aurora's throne ten years ago.

Will Aurora triumph over evil and reach her brother before it's too late? Can Aurora and Niklaas break the curses that will otherwise forever keep them from finding their one true love?
What an elegantly spiraling, tremendously beautiful, and utterly wonderful, bombshell of a book!! I absolutely LOVED PRINCESS OF THORNS in every possible way! From it's epic world building, and well developed characters, to it's beautiful version of the SLEEPING BEAUTY retelling that surpassed any and all expectations, and had me falling hopelessly in love with this wonderfully epic and truly beautiful story that rocked me to the core! PRINCESS OF THORNS is NOT a book to be missed!!!

Stacey Jay has quickly become one of my new favorite authors of all times!! I've been wanting to read her other book, OF BEAUTY AND BEAST since hearing all the wonderful praise about it, but sadly, I never gotten around to it. So when PRINCESS OF THORNS arrived on my doorstep for review, I jumped at the chance to review an author I've been so desperately wanting to explore. And let me tell you, all the rave reviews and amazing rumors couldn't of prepared me for this rare gem I found within the PRINCESS OF THORNS!!!



THE PLOT



"Prophecy foretells that in the last days of the Long Summer, the Age of Reaping will dawn with the rise of the living darkness. The four kingdoms will dwell in shadow, and the souls of man feed the First One's hunger for a hundred years."

In a faraway land, their lies two kingdoms in despair, two kingdoms who's rulers have failed them, two kingdoms who's heir's to the throne are cursed, two kingdoms who will be forever doomed into darkness, if the curse is not broken, in time....

Only one of the eleven Prince's of the kingdom of Kanvasol still remains. The curse that claims all heirs to the Kanvasol throne at the age of eighteen has already cursed ten of the eleven Prince's. And now as Niklaas, the last remaining Prince of Kanvasol eighteenth birthday drawls near, he knows his time is running out. But him being the youngest and most determined Prince of them all, he is not willing to accept that fate. He is not ready to give up and let the curse claim him, transforming his body from human flesh, to shrink inward and sprout feathers and wings, and be forced to take flight as a swan, forever cursed to be this beautiful animal, unaware of who he was and what he lost. He will not scum to this curse, and is determined to break the chains that bind him, hopefully before it's to late...

The remaining Princess of the kingdom of Norvere is all the kingdoms last hope for survival. Gifted with the fairy blessed blood of her dying mother, shed for her to be bestowed the gifts and skills needed in order to save their people from the evil Ogre Queen and her soldiers that have taken their kingdom with force, and have succeeded in stealing the souls of the people of Norvere.

Princess Aurora remained in hiding until her seventeenth year of age, only to venture out of her hidden sanctuary when the time comes not to let her mothers sacrifice be in vain. When Aurora's brother, Prince Jor is kidnapped on the way to one of their yearly visit, and then a vision of Jor being killed by his Ogre captives is foreseen, Princess Aurora knows the time has come to break the bounds that bind her, before all is lost and plunged into darkness, forever cursed to dwell in shadow and fear as the age of the reaping will curse them all to a life of misery, torture, and death...

Prince Niklaas is ready to set himself free. He sets out to find the lost Princess Aurora, in hopes she will aid him in breaking the wretched curse his father cast upon him, ensuring Niklaas would never live to his eighteenth birthday to become the rightful king of Kanvasol. So Niklaas's only hope lies in finding the last remaining unwed Princess, and persuade her to marry him before it's too late.

Niklaas and Aurora join forces, both needing something from the other, but unsure of the truth behind it. The journey is anything but easy, as the Ogre Queen is never far behind, and her lackeys are determined to bring Princess Aurora to their Queen, eager to fulfill the prophecy, and allow The Age Of Reaping to rise. And the longer the secrets that both Niklaas and Aurora harbor, the harder it is for them to remain true, because they could very well destroy the strong relationship they've forged, if ever revealed.

Time is running out as Niklaas's eighteenth birthday drawls near, and Aurora knows the clock is ticking until her brothers fate comes true. They will have to put aside their differences and work together if their going to stay alive long enough to complete their missions. But what do you do if you heart is pulling you one way, but you mind is pulling you another???

Overall, PRINCESS OF THORNS was a fantastic read that I absolutely adored!!! I am so eager to read more from this author, as I know it will be just as amazing as this book was! I have a feeling Stacy Jay is going to do great things in the YA Genre, and I will be right there waiting when she does!! If your looking for a romantic YA fantasy, that will sweep you into a world of lies, betrayals, sacrifice, determination, strength, and a forceful love that is determined to prevail, then PRINCESS OF THORNS is a MUST READ!!!

NOTE: I received a physical ARC from Random House for reviewing purposes! All opinions express are my own and are not influenced in any way!
Stacey Jay is a recovering workaholic (or at least working hard at recovering) with three pen names, two small children, and a passion for playing pretend for a living. She's been a full time mom-writer since 2005 and can't think of anything she'd rather be doing. Her former careers include theatre performer, professional dancer, poorly paid C-movie actress, bartender, waiter, math tutor (for real) and yoga instructor.