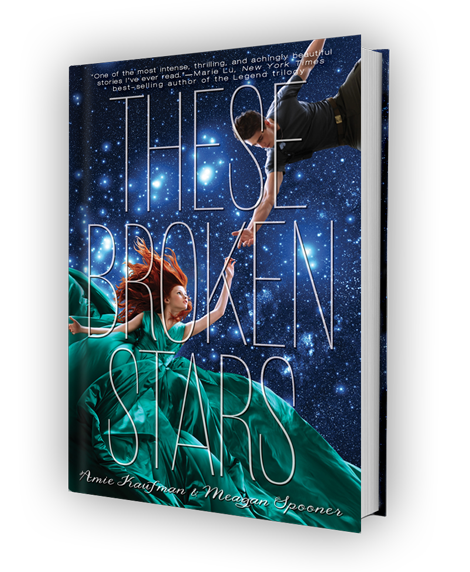 These Broken Stars
Genres: YA, Dystopian, Sci-f

Published: December 10th, 2013
It's a night like any other on board the Icarus. Then, catastrophe strikes: the massive luxury spaceliner is yanked out of hyperspace and plummets into the nearest planet. Lilac LaRoux and Tarver Merendsen survive. And they seem to be alone.

Lilac is the daughter of the richest man in the universe. Tarver comes from nothing, a young war hero who learned long ago that girls like Lilac are more trouble than they're worth. But with only each other to rely on, Lilac and Tarver must work together, making a tortuous journey across the eerie, deserted terrain to seek help.

Then, against all odds, Lilac and Tarver find a strange blessing in the tragedy that has thrown them into each other's arms. Without the hope of a future together in their own world, they begin to wonder—would they be better off staying here forever?

Everything changes when they uncover the truth behind the chilling whispers that haunt their every step. Lilac and Tarver may find a way off this planet. But they won't be the same people who landed on it.

--

A timeless love story, These Broken Stars sets into motion a sweeping science fiction series of companion novels. The Starbound Trilogy: Three worlds. Three love stories. One enemy.


Check Out The Rest Of The Series:
THESE BROKEN STARS was a sweeping, beautifully enchanting, epically wonderful, bombshell of a book! I absolutely loved it!! I honestly fell head over heels for this book. From the slow burning romance, to the unknown mysterious of the planet, and the survival mode that just made our characters stronger, I was lulled into a unforgettable adventure that I just wanted to relive over and over again!!

I was swept away by the beautiful writing, forbidden romance, mysterious plant, and two different people trying to survive in a different kinda world. All while every struggle they endure, the more they fall in love and grow an unbreakable bond!!! Beautiful, absolutely beautiful!!!

I LOVED both the main characters, Lilac and Tarver. But I have to admit, at first Lilac annoyed the hell out of me. She was rich, spoiled, and sure of herself, and it drove me insane! But I guess that's to be expected with being the daughter if the richest man in the universe, but it was still annoying nevertheless. But as the book progressed, and Lilac came to see a new world, a world that doesn't revolve around her, she began to grow, and mature, and be a pretty great protagonist!!! She did a 360 and turned into a different person—an awesome person, a person that many would look up to. And I loved watching her growth, and her reactions to all the events that were unfolding around her. And watching the new Lilac handle it differently then the old Lilac would.

And Tarver, ooh, Tarver, HOT DAM he was fine!!! He had my feelings in an uproar, all discombobulated, unsure of anything when it was time for his POV. He had this strong, determined, sure of everything around him, take charge and get the job done personality that I was instantly drawn too, and couldn't get enough of!! And by the end, both Lilac and Tarver were different people all together, and I loved them both so much more!!!!

THE PLOT

Lilac LaRoux is the daughter of the most powerful man in the universe. She is well known and avoided by boys. Because they all know to approach Lilac LaRoux is a death sentence in the making. Until one day, while drifting in hyperspace aboard the Icarus that holds 50,000 souls, one boy approaches her, one stupid, stupid boy, and Lilac's world is changed forever...

Lilac knows mingling with lower class citizens is asking for trouble, and she knows this from personal experience, and she refuses to put anyone in danger, again. But their is something compelling about the define, strait forward, mysterious Major Tarver Merendsen—war hero, and broadcasted on every news screen for his noble acts. But a nobody by her fathers standards. But she can't help but to feel hypnotized by his direct sureness, and overly attractive demeanor he carries. But Lilac knows he's a no zone, and the risk for indulging could put him in danger, so she's forced to put him in his place, and knock him down a few pegs. But it isn't until her fathers Titanic-like spaceliner is yanked out of hyperspace and plummets into the nearest planet that Lilac and Tarver must put their differences aside if their going to have any chance at survival. But this is just the beginning of their mysterious journey, and they'll have to endure the unthinkable if their going to make it out of this, alive...

When Lilac and Tarver crash alone on a mysterious planet, with no other survivors or other people inhabiting this planet, they realize they may be in more trouble then they first anticipated. But for Tarver, what could be more worse then landing alone on a planet with the most spoiled girl in all the galaxy? And for Lilac, it couldn't be more tiresome then having to put up with Major Merendsen's mouth, while having to trek across a planet in a dress fit for a ball, and the most agonizing high heels ever made. But as their journey continues, so do the voices—voices that aren't from anyone they see. Are they going crazy, have they been stranded too long without the proper care? Or is someone really there, hiding within the planets landscape? Or is this journey just taking it's toll on them?

As days pass stranded in this wasteland of a planet, so does their hatred and vile attitudes towards each other. And the more they begin to lean on each other for comfort and reassurance. But something else begins to grow between them. Something that could get them in a heap of trouble if revealed. But they can't help they're feelings for each other, and they're tired of fighting it, especially alone with no one else to turn to, and no hope of rescue. But they know they're playing with fire, and when it's all said and done, they will lose one way or another: Either stranded forever, forced to be cut off from any other human contact. Or be rescued, but forced apart to never be together again. And now, rescue isn't looking so appealing.... But that could be the least of their worries, because the voices are still calling to them, and they want something, and they aren't going away until they get it....

Ooh, I just loved this book soo soooo much!! But honestly, I'm surprised that I loved it as much as I did. They're really wasn't that much action throughout almost the entire book. It was just Lilac and Tarver traveling the wasteland of an abandoned planet, trying to survive and uncover the secrets and mystery's that were calling to them. And it was just the two main characters, Lilac and Tarver throughout most of the book. But the authors played it right and did a remarkable job with portraying the plot around just the two of them. But even with that, it was still beautifully breathtaking!!! Every single thing about this book was EPIC!!!

Overall, THESE BROKEN STARS rocked my world to the core! It was beautiful and full of secrets, with twist and turns that blew me away. If you are looking for a book with originality, and a forbidden romance that's determined to survive against all odds, with Sci-f aspects, set in a Titanic-like world in space, then THESE BROKEN STARS is a must read for you!!

NOTE: I received a physical ARC from Disney Hyperion for reviewing purposes! All opinions expressed are my own and are not influenced in any way!
5 Sizzling Bone Hearts
Amie Kaufman and Meagan

Spooner are longtime friends and sometime flatmates who have traveled the world (but not yet the galaxy), covering every continent between them. They are sure outer space is only a matter of time. Meagan, who is also the author of the SKYLARK trilogy, currently lives in Asheville, North Carolina, while Amie lives in Melbourne, Australia. Although they currently live apart, they are united by their love of space opera, road trips, and second breakfasts.