Waiting On Wednesday
is a Weekly event hosted by Jill @ Breaking The Spine that spotlights upcoming releases that we're eagerly anticipating. If it sounds like something your interested in, then head over the Breaking The Spine and Sign-up!
Hey Guys,
I hope everyone is having a fantastic week so far?
This weeks WoW is a sequel from a book that I am highly anticipating! I can't wait to read this follow up and see what's in store for this series. Anyways, check out this weeks WoW, and don't forget to link me up to yours and I'll come visit you!!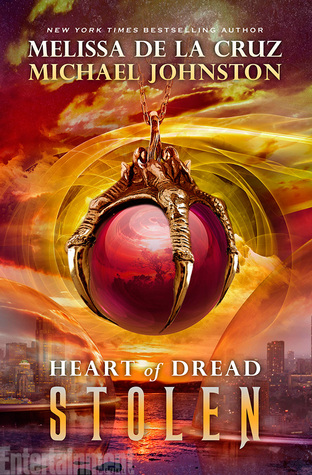 Stolen
Published:
November 18th, 2014
Genres: YA, Dystopia, Paranormal
Nat and her drakon are the last of their kind—sworn to protect what their enemies seek to control—and she's risked her life for their reunion. But fighting for the majestic Blue meant saying goodbye to Wes, breaking both their hearts. Back in New Vegas, citizens are threatened by the resurgence of magic and declare war on all the marked. Wes and his team travel to the extravagant indoor city of El Dorado looking for his sister, but when they are caught on the wrong side of the RSA's strict new laws, Wes is forced to do the unthinkable—surrender and rejoin the military's quest to uncover the magical source, the same land Nat is struggling to protect. Now he and Nat find themselves on opposing sides of a war that could potentially destroy what's left of the world.
Check out my review of book #1, FROZEN HERE!
I'm so excited to read STOLEN. I read the first book, FROZEN, last year and really enjoyed it. It ended on a seriously crazy cliffhanger, and I am DYING to know what's going to happen next in this crazy ice covered world! It releases next month, so I won't have to wait that long to found out!
Melissa Cruz

is the New York Times and USA Today bestselling author of many critically acclaimed and award-winning novels for teens including The Au Pairs series, the Blue Bloods series, the Ashleys series, and the Angels on Sunset Boulevard series. She has worked as a fashion and beauty editor and has written for many publications including The New York Times, Marie Claire, Harper's Bazaar, Glamour, Cosmopolitan, Allure, The San Francisco Chronicle, McSweeney's, Teen Vogue, CosmoGirl! and Seventeen. She has also appeared as an expert on fashion, trends and fame for CNN, E! and Fox News.

Michael Johnston

is Melissa de la Cruz's husband and co-creator of the Blue Bloods and Witches of East End series, and the co-author of the Wolf Pact series.

Melissa & Michael

collaborate in every capacity in crafting their books, from plot outlines to character sketches and dialogue, from first draft to final polish. They have a daughter and live in Los Angeles and Palm Springs.
What about you? What are YOU waiting on?

Link me up so I can come see what your desperately waiting on!