Teaser Tuesday

is a weekly bookish meme hosted by
MizB @ Should Be Reading
, where you share one to two teasers from your current book. Sound like something your interested in?
Then do the following:

Grab your current read. Open to a random page

Share 2 "Teaser" Sentences from somewhere on that page.

BE CAREFUL NOT TO INCLUDE SPOILERS! Make sure that what you share doesn't give too much away! You don't want to ruin the book for others!

Share the author & Title too, so that other TT participants can add the book to their TBR list if they like your Teaser!
Hey Guys,


I hope everyone had a wonderful weekend

?
Mine was great!

Anyways, check out this weeks TT and let me know what you think

in the comment section. Be sure to link me up to your TT or weekly memo so I can come visit you.
Here's My #72nd Teaser Tuesday From THE GLASS ARROW
!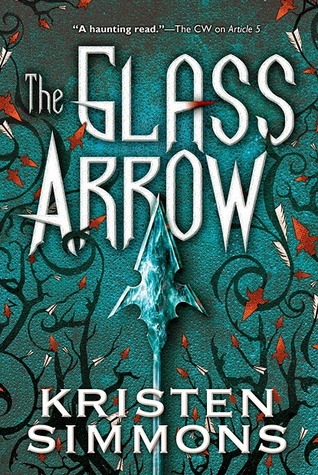 From the author of Article 5 comes the haunting tale of a girl on the run from the men who hunt her, men who want to auction off breeding rights to the highest bidder.

In a world where females are scarce and are hunted, then bought and sold at market for their breeding rights, 15-year old Aya has learned how to hide. With a ragtag bunch of other women and girls, she has successfully avoided capture and eked out a nomadic but free existence in the mountains. But when Aya's luck runs out and she's caught by a group of businessmen on a hunting expedition, fighting to survive takes on a whole new meaning.
NOTE:
Both Teasers come from an ARC, and are subject to change in the finished copy.
~ Chapter 1
~
Page
16 & 17 ~
I cannot hold back the scream this time as I crash to the ground.

The wire contracts, cutting through the skin and into the flesh and muscle of my leg. The heat turns electric, and soon it is shocking me, sending volts of lightning up through my hips, vibrating my insides.
How they began to poison their wombs so that they could not bear children, and murdered men with their wicked powers.





"These were not women," the Governess preaches. "They were witches."
Kristen Simmons has a master's degree in social work and is an advocate for mental health. She lives with her family and their precious greyhound Rudy in Cincinnati, Ohio.

In 30 words or more…

I was raised in Reno, Nevada—just below Lake Tahoe in the Sierra Nevada Mountains—with horses and dogs and Red Angus cattle. When I was little I had a colorful imagination (read: I was a cheerful liar), and loved to write stories. I rocked spandex shorts and slouch socks, put too many scrunchies in my side ponytail, and watched The Goonies approximately one kajillion times. For a brief time, I dedicated myself to a future in professional hockey after careful study of The Mighty Ducks.
Look out for my review of THE GLASS ARROW
coming soon!

Do you have a Teaser Tuesday? If so, link me up so I can come check out your TT or weekly memo.