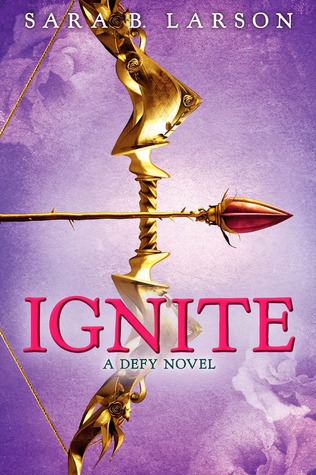 Murder, abductions, and forbidden romance abound in this thrilling sequel to Sara B. Larson's acclaimed YA debut, DEFY.

Alexa remains by the newly crowned King Damian's side as his guard, ever committed to helping him rebuild Antion and reclaim the hope of Antion's people, despite continuing to harbor a secret love for him. However, when another threat to Damian and his kingdom emerges, and blame is cast on their newly forged allies from Blevon, Alexa knows things are not what they seem. With the fate of her nation hanging in the balance once again, will Alexa be able to protect her king and uncover the true enemy -- before it's too late?


Check out my review of DEFY, book #1 HERE!


Check Out The Rest Of The Series:
NOTE:
If you have NOT read book #1, there may be spoilers. But NO spoilers of book #2!
IGNITE was amazing, absolutely A.M.A.Z.I.N.G!! I mean, WOW, there really are no words to put my feelings into check! Oh, it was powerful, and beautiful, and showed that love can conquer all! I was moved by this story. It was like an invisible hand was guiding my feelings and emotions, string them along and spinning them so fast I could hardly keep up. It was breathtaking, and gaspful, and oh, so dam painful, but by the end, it was utterly blissful!

Sara Larson packs a powerful punch in this utterly hypnotic second installment in the DEFY series!! The writing was just as alluring and sweeping as the first time around! The world building unfolded nicely, and evenly flowed into the second book. The action and adventure just kept coming, with just the right amount of breaks to keeps us entertained, yet, gave us a little breathing room to interrupt what we just read. The plot had me spinning in every direction, as the twist and turns just kept coming, and had me in amazement as they unfolded into their pure awesomeness!!!



THE PLOT



Alexa has saved her kingdom from destruction by their own vicious king. She defeated the vile and deadly black sorcerer in order to save her people and the ones she loves. She helped bring peace and freedom to her people, and put the most amazing king any kingdom could have on the throne. But it all came at a price, and the cost for that victory was high, and all Alexa's sacrifices will forever be branded into her heart and soul. She battled with all her might to achieve that tranquility, but it's about to be threatened, again...

The peacefulness the kingdom of Antion has come to know is about to come to an end. Their comfort and security is about to be breached. And again, Alex must step up and show her loyalties by defending her kingdom and the king she would give her life for. But their is something more sinister at work then anything they've ever experienced. And many innocents may suffer casualties, because their kingdom is on the brink of war, again...

But the battle that Alex wages with herself is what weighs her down. Her love for her king comes rushing to the surface every time he's around. Feels she knows she shouldn't feel, and fought so hard to keep buried since he claimed his rightful place on the throne. But as every passing day comes, so do her feelings, threatening to take over, threatening to take what is hers, threatening to claim what has been given to her. But that is something she cannot allow to happen. She is unfit to be queen. She is just his scared guarded, burned, and... ruined. But King Damion feels differently, and he's love has never wavered, and is a constant reminder of what she yearns for, but is forbidden...

Alex will have to put all her reservations and feelings aside, when threats from every direction arise. They are unsure of who is the enemy and who is ally. But whatever power is running rampant within their kingdom, it is unknown, and very powerful. And has the potential to bring their kingdom to it's knees, if not stopped. Alex will have to rely on herself and her friends if she as any chance of locating this threat and ending them before their kingdom falls under the deadly clutches of the enemy....

AHHH, that was just beautiful!! It stole my breath away with every page, and had me enchanted by it's beauty. Before I started this series, I was sure I wasn't going to like it as much as I hoped. But the second I started reading, and got to know Alex, and her challenges, and her fierce, unwavering strength, and the worldbuilding it was built around, I just knew this story was going to steal my heart away. And steal it, it did!!!

Overall, IGNITE blew me away, and had me on my toes the entire book, screaming for just one more page. I love these characters, and the world setting, and the strong fierce demeanor they carry, along with the compassionate, yet deadly way about them. The writing was swift and engaging, and totally addicting. The plot was full of depth and development, and the overall feel of the book took me back to the beginning and made me remember why I love this series so much. Entering the first page was like I never even left. I'll be in dire anticipation until book 3 releases and blows me away even more then this one!!!

NOTE: I received a physical ARC from Scholastic Press for reviewing purposes! All opinions expressed are my own and are not influenced in any way!
5 Blazing Bone Hearts
Sara's debut YA fantasy novel, DEFY, released in January of 2014 from Scholastic. The sequel will come out in early 2015--stay tuned for announcements about the title, cover, and synopsis! Sara lives in Utah with her husband and three young children. She writes during naptime and the hours when most people are sleeping. Her husband claims she should have a degree in "the art of multitasking." On occasion you will find her hiding in a bubble bath with a book and some Swedish Fish or some mint chocolate truffles. She is represented by Josh Adams of Adams Literary.