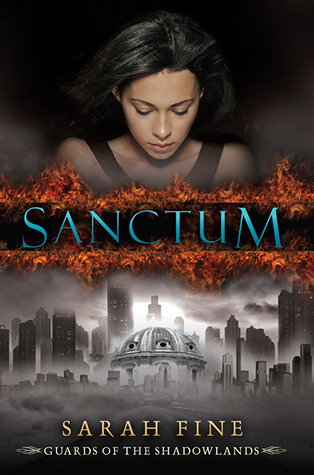 "My plan: Get into the city. Get Nadia. Find a way out. Simple."

A week ago,

seventeen-year-old Lela Santos's best friend, Nadia, killed herself. Today, thanks to a farewell ritual gone awry, Lela is standing in paradise, looking upon a vast gated city in the distance—hell. No one willingly walks through the Suicide Gates,

into a place smothered in darkness and infested with depraved creatures. But Lela isn't just anyone—she's determined to save her best friend's soul, even if it means sacrificing her eternal afterlife.

As Lela struggles to find Nadia, she's captured by the Guards, eno

rmous, not-quite-human creatures that patrol the dark city's endless streets. Their all-too-human leader, Malachi, is unlike them in every way except one: his deadly efficiency. When he meets Lela, Malachi forms his own plan: get her out of the city, even if it means she must leave Nadia behind. Malachi knows something Lela doesn't—the dark city isn't the worst place Lela could end up, and he will stop at nothing to keep her from that fate.
Check out the complete series
|
|
|
|
|
V
Set in a dark terrifying world, SANCTUM brings originality and adventure, romance and friendship, like I've never experienced! SANCTUM was so addicting, yet so terrifying, and SOOO much fun to read!! I did NOT want to put SANCTUM down to save my life. It was just that good!

There was honestly not a thing that I did not like about SANCTUM! Seriously, it was so awesome, for so many different reasons. Every chapter had me more engrossed, wanting to know more about the scary-amazing world that captured my heart. I felt hard for these characters and their struggles and experiences, and really wanted them to succeed. I think SANCTUM is a book that EVERYONE should read and experience, no matter your preferred genre.


THE PLOT


Lela's been though it all. And she's as tough as nails and doesn't take any crap from anyone because of it. But there's a good reason why she is the way she is, and she's about to be tested just how far she'll go to save the ones she loves...

Lela has been in and out of different foster homes for as long as she can remember, and they haven't been the most pleasant experiences either. But when Lela finally settles down in her last foster home, everything seems to be on the up in up when she meets Nadia, a girl who seems to like her for her. Which is unusual Lela thinks, but she gives in to this relationship that she's never experienced, and slowly a beautiful friendship blooms, and Lela has finally found something worth living for. But then drastically, Nadia starts experiencing extreme depression and turns to drugs to cope with her feelings. And eventually life becomes to much for Nadia and she commits suicide. And then Lela's world is shattered, everything she found worth living for is gone, and she is left utterly alone, and more helpless then ever. Until Lela starts having terrifying recurring dreams of a hellish City that souls go to when they die, and when she see's who's ended up in this hellish world, her world collapses...

When Lela was with one of her worst foster parents, life became to much and she tried to commit suicide. But Lela was pulled back at the last second by her vile foster father, and was able to be revived. But when she was under, somewhere in between the living and the dead, Lela ended up at the gates of the Suicide City, and was just about to be ushered in when she was pulled back to living. And ever since that day, she's had recurring vision and dreams of being there in the Suicide City and watching all the terrifying events unfold, and that's exactly where she see's Nadia after she killed herself, and Lela can't help but to believe it's all really real. But when Lela accidentally falls off a cliff to her death, she realizes just how real it really is...

Now Lela has a choice; spend her afterlife relishing in the heaven-like country where she belongs. Or she can go inside the hellish Suicide Gates and search for her suffering friend. The answer comes easily to Lela, and she plots her way into the Suicide City Gates, determined to find her friend, save her from herself, evade the Mazikin that's hunting them, and get them both out of the City of hell that they've found themselves in.

But when Lela crosses paths with the dangerous and equally deadly, Captain of the guard, Malachi, her world changes forever... Malachi's tough, deadly, determined, and willing to do whatever it takes to stop the Mazikin from killing and claiming the bodies of the souls in the Suicide City. Malachi is set on ridding his dark city of Mazikin, and he just so happens to think Lela is working for them, and he's determined to get the truth from her, one way or another. But soon Malachi realizes that Lela is not working for the enemy, and they both start to developed feelings that neither one of them has ever experienced before. And before they know what they've gotten themselves into, their caught in a spiraling downfall of electrifying feelings, terrifying creatures, deadly atmospheres, and tortured souls, But if they have any chance of making it out alive, they will have to bound together and build a trust that neither one of them is good at giving.

I loved this book so soooo much!! UGH, I just can't put my feelings into words and express my love for this book properly!!! It is truly one of the most original books that I have personally read in a very, very, long time, and I loved that so much!!

I listened to most of SANCTUM on audio, but also went back and forth on my eBook and paperback. But I loved the narration so much that I preferred the audiobook over actually reading the book. The narrator Amy McFadden was one of the best narrators that I've came across in a while. She preformed Malachi, the male love interested with such beauty, and with an enticing accent that always made me want to curl my toes in desire!! Sarah Fine is an AMAZING story teller, and knows how to write a burning romance that makes you want to jump through the pages and endure all the pain and suffering that the characters are going through just to get a chapter in that sizzling romance!!!

Overall, SANCTUM was a fast-paced, action-packed, terrifying adventure that I will read again and again for sooooo many years to come! The world building was original and truly addicting, the characters were believable and will developed, the ending ROCKED, and the friendship was truly beautiful. SANCTUM is a book that I think everyone should read!!! It's just that amazing, absolutely, breathtakingly wonderful!!! And I am so eager to get back in this series, but hesitant, because I don't ever want it to end!!!
5 Terrifying Bone Hearts
I'm the author of several books for teens, including Of Metal and Wishes (McElderry/Simon & Schuster) and its sequel, Of Dreams and Rust (coming in August 2015), and the Guards of the Shadowlands YA urban fantasy series (Skyscape/Amazon Children's Publishing). I'm also the co-author (with Walter Jury) of two YA sci-fi thrillers published by Putnam/ Penguin: Scan and its sequel Burn (which will be published in 2015). My first adult urban fantasy romance novel, Marked, will be published in January 2015 by 47North/Amazon Publishing, with the sequel, Claimed, coming in March 2015. When I'm not writing, I'm psychologizing. Sometimes I do both at the same time. The results are unpredictable.