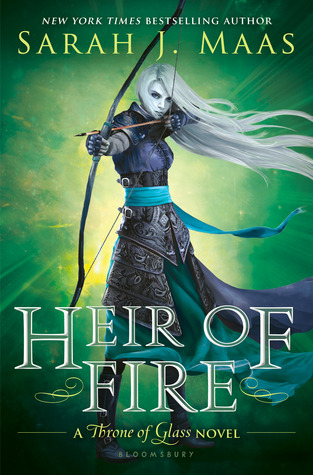 Heir of Fire
Sarah J. Maas
(Throne of Glass #3)
Published: September 2nd, 2014
Genres: YA, Paranormal, Fantasy
Lost and broken, Celaena Sardothien's only thought is to avenge the savage death of her dearest friend: as the King of Adarlan's Assassin, she is bound to serve this tyrant, but he will pay for what he did. Any hope Celaena has of destroying the king lies in answers to be found in Wendlyn. Sacrificing his future, Chaol, the Captain of the King's Guard, has sent Celaena there to protect her, but her darkest demons lay in that same place. If she can overcome them, she will be Adarlan's biggest threat – and his own toughest enemy.

While Celaena learns of her true destiny, and the eyes of Erilea are on Wendlyn, a brutal and beastly force is preparing to take to the skies. Will Celaena find the strength not only to win her own battles, but to fight a war that could pit her loyalties to her own people against those she has grown to love?
DON'T MISS OUT ON THE COMPLETE SERIES
Check out my reviews of book #1, THRONE OF GLASS, and book #2, CROWN OF MIDNIGHT!!
***SPOILER ALERT***
READ AT YOUR OWN RISK IF YOU HAVE NOT READ THE REST OF THE SERIES!!
WHOA,

HEIR OF FIRE

was a bombshell of a sequel!!! It satisfied on so many levels!! This book took us places the rest of the series never had. It breathed a breath of fresh air into this series, and captured my heart even more then it had before, in which I didn't even know was possible.

Rowan is a new character introduced into HEIR OF FIRE that I LOVED so much!!! He

comes into

Celaena

's life and changes it forever

—

changes HER forever. At first he wears this tough, fierce, deadly, not to be messed with mask. But then as Celaena starts to melt the ice around Rowan's heart, he begins to shed his hard demeanor and opens his heart to Celaena, and we get to see the softer, more gentle side of Rowan, one that I'm sure he doesn't let many see. He becomes Celaena's lifeline when she's drowning. A shoulder when she needs support. He becomes a friend to Celaena, something she thought she lost with

Nehemi

, but also found in Rowan.




THE PLOT




~ CELAENA ~



Celaena left

Adarlan all but shattered, and more alone then she's ever been. She's lost everything that matters most to her, and is tired, so very tired. So when she makes it

to

Wendlyn on a mission from the king, to murder those who pose a threat to him, Celaena refuses to continue to be the kings puppet, and is ready to get out of the shadows, and fight back. But first, she needs answers...



As Celaena determines her best course of action to disentangle herself from the kings clutches, she is approached by Rowan

;

a strong, determined, and equally deadly Fey warrior that is on a mission of his own

;

to bring Celaena to his Queen at any cost necessary. The very Queen C

elaena's

mother had been hiding her from, her aunt Maeve, Queen of the Fey.

Celaena knows it's a gamble dealing with Maeve, but Maeve has the knowledge she seeks, the information she needs if she's going to defeat the king and free the slaves. But Maeve has her own agenda, and she's not handing over the information easy!

She agrees to give Celaena what she wants, but only under one condition

;

Celaena

must first learn to wield the power that burns within. She must master the full capacity that her magic can reach. Then, and only then, will she give Celaena the answers that she desperately seeks. With no other options, Celaena reluctantly agrees to Maeve's conditions, unaware of what Maeve's real intentions are.



~ ROWAN ~





Rowan, the lethal Fey warrior will train

Celaena

until she is able to wielded fire like no other. He will push her to the breaking, until she pulls forth the magic that lies deep within that has been suppressed for many years. He will use any means necessary for her to harness her powers. And Celaena will become one of the most powerful Queens that's ever been brought into this world. And then Celaena will set the world on fire, and wage war like no ones ever seen. She will form allies, call forth any and all debts owed to her, she will breath hope back into the ones that thought all was lost. And then she

will grow an army strong enough to

go to the ends of the earth to battle the king and his evil power. Because she is the one who will bring the end of their suffering, she is the one that will stand up and battle the unthinkable, because she is the real Queen, she is the Heir Of Fire, and she is tired of running, and ready to fight back...

~ CHAOL ~



Chaol is still reeling with the news of who

—what

Celaena

is, and what she is capable of. Especially now that he's sacrificed his position as the Caption in the kings guard, and traded it with his father for his vote in supporting to get Celaena out of Adarlan, and sending her to the very place where her heritage roots run deep. He is unsure of where he's loyal lies now. He knows the king is a monster and must be stopped. But his real oath is to the Prince, and he refuses to let him be used like a puppet, or worse for what lies inside of the prince. So he will have to decide just where his loyalties lie now, and just how far he's willing to go to protect the ones he loves.



~ PRINCE DORIAN ~





Dorian is still wallowing in self pity over everything that happened these last few months since Celaena came into their life. He continues quietly learning to control the magic within, the power that the king

—

his father mustn't find out about, or, it could mean a certain death for even him.

He is still unsure about where his heart and loyalties lie after the whole Celaena and Chaol thing. And now Chaol is keeping secrets, very deadly secrets, and Dorian feels betrayed, and more alone then ever. But when Dorian meets someone who changes all that for him, he finally thinks he's found the missing piece in his puzzle. But as lines are crossed, betrayals are made, loyalties tested, and lives lost, Dorian will have to decide just what type of king he wants to be, and if it's time to finally take a stand for what's right. Even if he has to battle the king himself, he knows the clock is ticking, and war is on the horizons, but what side he stands, he will have to discover...



~ MANON BLACKBEAK ~





Manon and her coven, the Thirteen, are one of deadliest covens of witches alive. They're known for their fierce manner, and deadly precision when striking their target. But when confronted with a tempting mission from the king, they eagerly take his offer and plan to take to the skies and become riders of these wyverns that the king has been raising in secret to become one of his greatest deadly weapons of destruction!



HEIR OF FIRE was exceptionally amazing!!! I LOVED IT SO MUCH!!! Only reason I gave it 4.5 stars and not the full 5 is because it felt like it dragged a bit in the beginning. I understand completely why we needed all the info dump. But I felt like it could of sped up more and had a faster pace then it did! BUT... that was just a minor flaw versus all the awesomeness that was packed into HEIR OF FIRE!!!



Overall, HEIR OF FIRE is an amazing sequel, that is sure to please any THRONE OF GLASS fan out there!

HEIR OF FIRE

felt different then the other books in the series, and I loved that. I had different kinda feels with this book then I did the rest. But it was still amazing nevertheless. I just can't express my love for this book, this series in a whole. I am sooo happy that I finally decided to pick up the first book, even with the reservations I had about it. Because if I hadn't, I would of sorely been missing out on an EPIC series.

The only issue I have with HEIR OF FIRE is not have book 4 in my book-

greedy hands. And then having to wait another whole year for the next. It's just torture, absolutely TORTURE!!! But I have no doubt Sarah Maas will make this wait well worthwhile, and will not disappoint one bit!!!



NOTE: I received a physical ARC from Bloomsbury for reviewing purposes! All opinions express are my own and are not influenced in any way!
What did you think of my review of
HEIR OF FIRE
?
Let me know in the comment section!