Welcome to my stop in THE GIRL FROM THE WELL by
Rin Chupeco

Blog Tour hosted by Sourcebooks!! Today we have my review of
THE GIRL FROM THE WELL + an awesome Giveaway!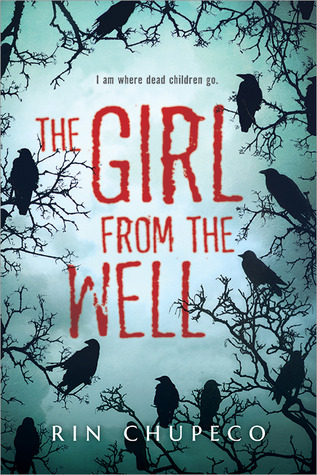 The Girl From The Well
Rin Chupeco
Published: August 5th, 2014
Genres: YA, Horror, Paranormal
You may think me biased, being murdered myself. But my state of being has nothing to do with the curiosity toward my own species, if we can be called such. We do not go gentle, as your poet encourages, into that good night.

A dead girl walks the streets.

She hunts murderers. Child killers, much like the man who threw her body down a well three hundred years ago.

And when a strange boy bearing stranger tattoos moves into the neighborhood so, she discovers, does something else. And soon both will be drawn into the world of eerie doll rituals and dark Shinto exorcisms that will take them from American suburbia to the remote valleys and shrines of Aomori, Japan.

Because the boy has a terrifying secret - one that would just kill to get out.

The Girl from the Well is A YA Horror novel pitched as "Dexter" meets "The Grudge", based on a well-loved Japanese ghost story.
When I first heard of THE GIRL FROM THE WELL I was jumping through hoops trying get a early copy of this book! I loved the premises of this book and it sounded sooo creepy delicious, that I just knew I was going to enjoy it!! And enjoy it I did!!!




THE PLOT

Okiku came to her demise 300 years ago after being murdered and thrown down a well, where her body has remained. Her spirit has yet to find peace and has been roaming the Street

s

searching for murders, and hunting them down one by one. All while torturing and bringing forth their worst nightmares...


But everything changes in Okiku's existence when a mysterious

boy bearing strange tattoos finds his way into her world.

Okiku has this unexplainable pull to this strange boy like nothing she's ever experienced in her 300 years of roaming the earth as a spirit. But soon both lives intertwine and find themselves drawn into an eerie world full of murders,

exorcisms,

doll rituals, vengeful spirits, and other sinisterly creepy paranormal beings, that will change their world forever!

This is my mental image of Okiku:


Pretty scary, right? Well this book scared the hell out of me!! And I loved the chills and thrills this book brought with it's dark, gory, vengeful world!! I'm not one to be scared by a good horror novel, but this book sent me hiding under the covers, crawling closer and closer to my husband on more then one occasion!!

This book is...

Equal parts awesome

+

Equal parts scary

=

ONE HELL OF A NOVEL!!

Overall, THE GIRL FROM THE WELL

was an awesomely creepy, refreshingly dark, twisted world, with vivid

elements

and disturbing

events that will leave you breathless, and scared out of your mind needing more! If any of those are your "thing", then pick THE GIRL FROM THE WELL up now, I'm certain you will not be disappointed!

NOTE: I received a physical ARC from Sourcebooks Fire for reviewing purposes! All opinions expressed are my own and are not influenced in any way!
4
Bone Hearts