Teaser Tuesday

is a weekly bookish meme hosted by
MizB @ Should Be Reading
, where you share one to two teasers from your current book. Sound like something your interested in?

Then do the following:

Grab your current read. Open to a random page

Share 2 "Teaser" Sentences from somewhere on that page.

BE CAREFUL NOT TO INCLUDE SPOILERS! Make sure that what you share doesn't give too much away! You don't want to ruin the book for others!

Share the author & Title too, so that other TT participants can add the book to their TBR list if they like your Teaser!
Hey Guys,


I hope everyone had a wonderful weekend

?
Mine was busy!

Anyways, check out this weeks TT and let me know what you think

in the comment section. Be sure to link me up to your TT or weekly memo so I can come visit you.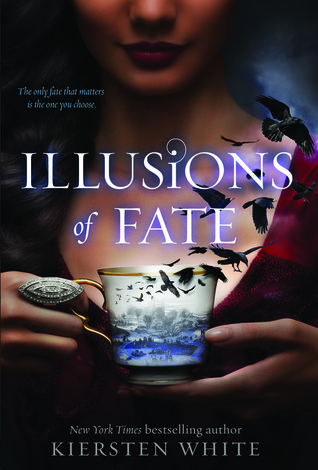 Illusions of Fate
Kiersten White
Published: September 9th, 2014
Genres: YA, Fantasy, Mythology
Downton Abbey meets Cassandra Clare in this lush, romantic fantasy from New York Times bestselling author Kiersten White.

"I did my best to keep you from crossing paths with this world. And I shall do my best to protect you now that you have."

Jessamin has been an outcast since she moved from her island home of Melei to the dreary country of Albion. Everything changes when she meets Finn, a gorgeous, enigmatic young lord who introduces her to the secret world of Albion's nobility, a world that has everything Jessamin doesn't—power, money, status…and magic. But Finn has secrets of his own, dangerous secrets that the vicious Lord Downpike will do anything to possess. Unless Jessamin, armed only with her wits and her determination, can stop him.

Kiersten White captured readers' hearts with her New York Times bestselling Paranormalcy trilogy and its effortless mix of magic and real-world teenage humor. She returns to that winning combination of wit, charm, and enchantment in Illusions of Fate, a sparkling and romantic new novel perfect for fans of Cassandra Clare, The Madman's Daughter, and Libba Bray.
~ Chapter 22
~
Page
173-174 ~
They're covered in cuts and slices like tallies in a ledger. Her face has several long, seeping slits as well.





"What happened?" I kneel at her bedside, grabbing a cloth to help.





"Birds." She closes her eyes, her face pale with shock. "I went out for vegetables and a whole flock of birds flew down at me. I couldn't get away. It was like being caught in a storm

—

they were all around

—

"
~ Chapter 26 ~
Page
189
~
As soon as my lips find his, he backs away, nearly falling off his chair. "I didn't make you do that!" His eyes are wide with panic. "Please believe me, I really have not been using any charm spells, and I would never take advantage of

—"





I put my finger

—from the hand without the glove

—over his mouth and trace the soft curve of his bottom lip. "Please stop talking." Hooking the collar of his shirt, I pull him toward me and kiss him again.
Look out for my review of
ILLUSIONS OF FATE
coming soon!

Do you have a Teaser Tuesday? If so, link me up so I can come check out your TT or weekly memo.
Thanks For Stopping By! :
-)