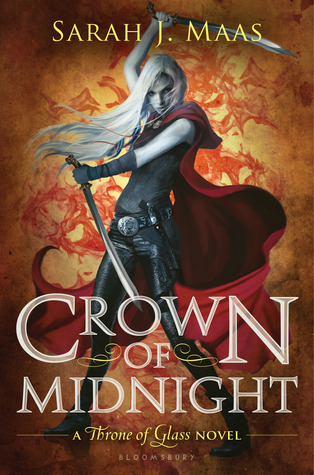 Crown of Midnight
Sarah J. Maas
(The Throne Of Glass #2)
Published: August 27th, 2013
Genres: Young Adult, Fantasy
"A line that should never be crossed is about to be breached.

It puts this entire castle in jeopardy—and the life of your friend."

From the throne of glass rules a king with a fist of iron and a soul black as pitch. Assassin Celaena Sardothien won a brutal contest to become his Champion. Yet Celaena is far from loyal to the crown. She hides her secret vigilantly; she knows that the man she serves is bent on evil.

Keeping up the deadly charade becomes increasingly difficult when Celaena realizes she is not the only one seeking justice. As she tries to untangle the mysteries buried deep within the glass castle, her closest relationships suffer. It seems no one is above questioning her allegiances—not the Crown Prince Dorian; not Chaol, the Captain of the Guard; not even her best friend, Nehemia, a foreign princess with a rebel heart.

Then one terrible night, the secrets they have all been keeping lead to an unspeakable tragedy. As Celaena's world shatters, she will be forced to give up the very thing most precious to her and decide once and for all where her true loyalties lie...and whom she is ultimately willing to fight for.
***SPOILER***
READ AT YOUR OWN RISK IF YOU HAVE NOT READ THE FIRST BOOK IN THIS SERIES!!
I can't even begin to form the right words to express my feelings on this book. It had me going high, really, really high. Then BAM, I would drop down and keep goingggg. But it was awesome to experience all these feelings from one EPIC book!!!

The best way to describe my feelings is that CROWN OF MIDNIGHT was intense. I was on my toes, pacing as I was reading. I couldn't get it down fast enough to satiate my urge. It was like I knew something fantastic was coming, and every chapter was getting me closer to what I knew was going to blow me away, because I could feel it. And then it finally came, and WOW, I was in awe, and in amazement, and in such a great desire for the next book (Luckily I already have it ;) I thought it was way better then the first book, and it had just enough of everything I wanted.
THE PLOT...

Celaena

is back, and she's more deadlier then ever! She'

s finally made it to the top and became the Kings Champion. But for Celaena, that was just the beginning, as the real test begins now, and she will

have to decide where her heart really lies.

Now is

when she will have to swallow her pride and do as she's told, or die where she's standing. The time has come for her to do all the dirty work the king desires. Her task? To kill all who threaten the Kings empire. To kill innocents, to slaughter them like pigs all because they want to live a life without fear, without bowing down to a man they despise. And

Celaena has only 2 choices, she can do as she's told, and finally be free after 4 years of doing the Kings evil bidding's. Or, she can defy the king and be killed on the spot!! But neither of them 2 options sound

appealing to

Celaena. But what if there was a 3rd choice? A gray area she could play with?? And then the wheels start turning and the fun starts for Celaena...

Celaena will have to do the unthinkable if she's going to follow the path she chooses. She will have to face some dark secrets she has kept hidden, and buried away for as long as she can remember. But as the truth surfaces and

Celaena faces deadly

secrets

, she will have to make the ultimate choice if she's going to stay alive long enough to make a difference. Because if her secrets were revealed, she would become the hunted, not the hunter...


The CROWN OF MIDNIGHT was an amazing sequel to THRONE OF GLASS. I liked THRONE OF GLASS, but it was lacking the action and adventure I craved. But CROWN OF MIDNIGHT sedated every craving and some!! I can't wait to dive into HEIR OF FIRE soon, and see what happens next in

Celaena

's journey. Because it ended on one hell of a cliffhanger that had me screaming for more!!


Overall, CROWN OF MIDNIGHT was just the sequel I was hoping for.

I swept up into it's fast-paced, action-packed, magical-filled, fantasy world that took me on the ride of my life!!!

This series has become one of my new faves, and I'm excited to see where Maas takes us next!

NOTE: I received a physical ARC from Bloomsbury for reviewing purposes! All opinions express are my own and are not influenced in any way!
4 Bone Hearts