What's Next
is a weekly bookish event hosted by Icey Books that helps bloggers/readers decide on their next book to read. If this sounds like something your interested in, then head over to Icey Books and sign-up!
Hey Guys,
Happy Thursday!
I hope everyone is having a wonderful week so far? Check out What's Next in my Reading Pile and if you can help me out by voting on What Next to read, you'd be a BIG help!
The Jewel
Amy Ewing
(The Lone City #1)
Published: September 2nd, 2014
Genres: YA, Dystopian, Fantasy
The Jewel means wealth. The Jewel means beauty. The Jewel means royalty. But for girls like Violet, the Jewel means servitude. Not just any kind of servitude. Violet, born and raised in the Marsh, has been trained as a surrogate for the royalty—because in the Jewel the only thing more important than opulence is offspring.

Purchased at the surrogacy auction by the Duchess of the Lake and greeted with a slap to the face, Violet (now known only as #197) quickly learns of the brutal truths that lie beneath the Jewel's glittering facade: the cruelty, backstabbing, and hidden violence that have become the royal way of life.

Violet must accept the ugly realities of her existence... and try to stay alive. But then a forbidden romance erupts between Violet and a handsome gentleman hired as a companion to the Duchess's petulant niece. Though his presence makes life in the Jewel a bit brighter, the consequences of their illicit relationship will cost them both more than they bargained for.
Chasing Power
Sarah Beth Durst
Published: October
14th, 2014
Genres: YA, Fantasy, Paranormal
Lies, secrets, and magic — three things that define Kayla's life.

Sixteen-year-old Kayla plans to spend her summer hanging out on the beach in Santa Barbara and stealing whatever she wants, whenever she wants it. Born with the ability to move things with her mind — things like credit cards, diamond rings, and buttons on cash registers — she has become a master shoplifter. She steals to build up a safety net, enough money for her and her mom to be able to flee if her dad finds them again. Well, that, and the thrill of using her secret talents.

But her summer plans change when she's caught stealing by a boy named Daniel — a boy who needs her help and is willing to blackmail her to get it. Daniel has a talent of his own. He can teleport, appearing anywhere in the world in an instant, but he lies as easily as he travels. Together, they embark on a quest to find and steal an ancient incantation, written on three indestructible stones and hidden millennia ago, all to rescue Daniel's kidnapped mother. But Kayla has no idea that this rescue mission will lead back to her own family — and to betrayals that she may not be able to forgive... or survive.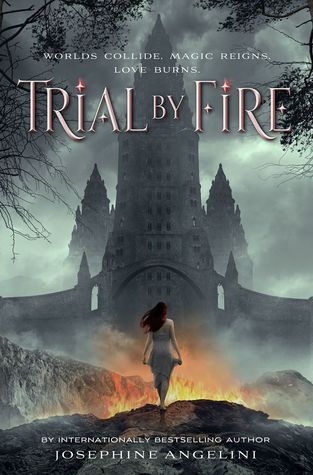 Trial By Fire
Josephine Angelini
Published: September 2nd, 2014
Genres: YA, Fantasy, Paranormal
Love burns. Worlds collide. Magic reigns.



This world is trying to kill Lily Proctor. Her life-threatening allergies keep her from enjoying many of the experiences that other teenagers take for granted...which is why she is determined to enjoy her first (and perhaps only) high-school party. But Lily's life never goes according to plan, and after a humiliating incident in front of half her graduating class Lily wishes she could just disappear.

Suddenly Lily is in a different Salem - one overrun with horrifying creatures and ruled by powerful women called Crucibles. Strongest and cruellest of all the Crucibles is Lillian . . . Lily's identical other self in this alternate universe. This new version of her world is terrifyingly sensual, and Lily is soon overwhelmed by new experiences.

Lily realizes that what makes her weak at home is exactly what makes her extraordinary in New Salem. It also puts her life in danger. Thrown into a world she doesn't understand, Lily is torn between responsibilities she can't hope to shoulder alone, and a love she never expected.

But how can Lily be the saviour of this world when she is literally her own worst enemy?
S
o, what'cha think of my top 3 choices of the week? If you can help me out, leave a comment voting on which book should come first.
Don't forget to link me up to your What's Next or weekly memo and I'll come visit you! :-)