Waiting On Wednesday
is a Weekly event hosted by Jill @ Breaking The Spine that spotlights upcoming releases that we're eagerly anticipating. If it sounds like something your interested in, then head over the Breaking The Spine and Sign-up!

Hey Guys,
I hope everyone is having a great week so far?
This weeks WoW is from a Dystopian book that I am SOOO excited for!! The author is amazing, and I am so excited to read more of her work!! Anyways, check out this amazing WoW, and don't forget to link me up to yours and I'll come visit you!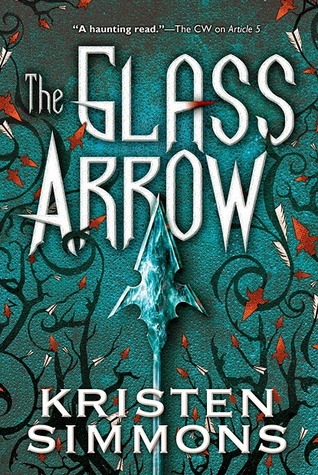 From the author of Article 5 comes the haunting tale of a girl on the run from the men who hunt her, men who want to auction off breeding rights to the highest bidder.

In a world where females are scarce and are hunted, then bought and sold at market for their breeding rights, 15-year old Aya has learned how to hide. With a ragtag bunch of other women and girls, she has successfully avoided capture and eked out a nomadic but free existence in the mountains. But when Aya's luck runs out and she's caught by a group of businessmen on a hunting expedition, fighting to survive takes on a whole new meaning.
Ooh, there is soooo many reasons why I am waiting for THE GLASS ARROW!! So many reasons of why I KNOW I'm going to love it!!! So many reasons of why I NEED it, NOW!!!

But here are just a few...

I LOVE ALL of Kristen Simmons other books!! She is an amazing writer and only gets better with each book. It's Dystopian, as everyone knows, it's one of my favorite genres. Though Fantasy has been giving it a run for it's money lately! But the description sounds amazing!!



"In a world where females are scarce and are hunted, then bought and sold at market for their breeding rights"





YEP, I'm sold!!! February 10th, where are you???



What do you think of my WoW?

Will you be adding it to your TBR Reading Pile?




Kristen Simmons has a master's degree in social work and is an advocate for mental health. She lives with her family and their precious greyhound Rudy in Cincinnati, Ohio.





In 30 words or more…



I was raised in Reno, Nevada—just below Lake Tahoe in the Sierra Nevada Mountains—with horses and dogs and Red Angus cattle. When I was little I had a colorful imagination (read: I was a cheerful liar), and loved to write stories. I rocked spandex shorts and slouch socks, put too many scrunchies in my side ponytail, and watched The Goonies approximately one kajillion times. For a brief time, I dedicated myself to a future in professional hockey after careful study of The Mighty Ducks.
W
hat about you? What are YOU waiting on?
Link me up so I can come see what your desperately waiting on!