Teaser Tuesday

is a weekly bookish meme hosted by
MizB @ Should Be Reading
, where you share one to two teasers from your current book. Sound like something your interested in?

Then do the following:

Grab your current read. Open to a random page

Share 2 "Teaser" Sentences from somewhere on that page.

BE CAREFUL NOT TO INCLUDE SPOILERS! Make sure that what you share doesn't give too much away! You don't want to ruin the book for others!

Share the author & Title too, so that other TT participants can add the book to their TBR list if they like your Teaser!

Hey Guys,

I hope everyone had a wonderful weekend?
Mine was busy!

Anyways, check out this weeks TT and let me know what you think

in the comment section. Be sure to link me up to your TT or weekly memo so I can come visit you.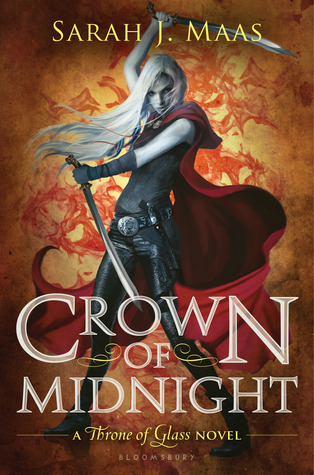 Crown of Midnight
Sarah J. Maas
(The Throne Of Glass #2)
Published: August 27th, 2013
Genres: Young Adult, Fantasy
"A line that should never be crossed is about to be breached.

It puts this entire castle in jeopardy—and the life of your friend."

From the throne of glass rules a king with a fist of iron and a soul black as pitch. Assassin Celaena Sardothien won a brutal contest to become his Champion. Yet Celaena is far from loyal to the crown. She hides her secret vigilantly; she knows that the man she serves is bent on evil.

Keeping up the deadly charade becomes increasingly difficult when Celaena realizes she is not the only one seeking justice. As she tries to untangle the mysteries buried deep within the glass castle, her closest relationships suffer. It seems no one is above questioning her allegiances—not the Crown Prince Dorian; not Chaol, the Captain of the Guard; not even her best friend, Nehemia, a foreign princess with a rebel heart.

Then one terrible night, the secrets they have all been keeping lead to an unspeakable tragedy. As Celaena's world shatters, she will be forced to give up the very thing most precious to her and decide once and for all where her true loyalties lie...and whom she is ultimately willing to fight for.
Celaena reached a gloved hand into the sack, and tossed the severed head toward him. No one spoke as it bounced, a vulgar thudding of stiff and rotting flesh on marble. It rolled to a stop at the foot of the dais, milky eyes turned toward the ornate glass chandelier overhead.




Dorian straightened, glancing away from the head. Chaol just stared at her.
~ Chapter 186 ~
Page
2
3 ~
The kiss obliterated her.

It was like coming home or being born or suddenly finding an entire half of herself that had been missing.

His lips were hot and soft against hers--still tentative, and after a moment, he pulled back far enough to look into her eyes. She trembled with the need to touch him everywhere at once, to feel him touching her everywhere at once. He would give up everything to go with her.
Look out for my review of
CROWN OF MIDNIGHT
coming soon!

Do you have a Teaser Tuesday? If so, link me up so I can come check out your TT or weekly memo.
Thanks For Stopping By! :
-)