Published: June 17th, 2014
The capital has fallen. The Darkling rules Ravka from his shadow throne.

Now the nation's fate rests with a broken Sun Summoner, a disgraced tracker, and the shattered remnants of a once-great magical army.

Deep in an ancient network of tunnels and caverns, a weakened Alina must submit to the dubious protection of the Apparat and the zealots who worship her as a Saint. Yet her plans lie elsewhere, with the hunt for the elusive firebird and the hope that an outlaw prince still survives.

Alina will have to forge new alliances and put aside old rivalries as she and Mal race to find the last of Morozova's amplifiers. But as she begins to unravel the Darkling's secrets, she reveals a past that will forever alter her understanding of the bond they share and the power she wields. The firebird is the one thing that stands between Ravka and destruction—and claiming it could cost Alina the very future she's fighting for.
**WARNING**
SPOILERS AHEAD IF YOU HAVE NOT READ BOOK #1 OR #2!!
BUT THERE IS NO SPOILERS FOR THIS BOOK RUIN AND RISING!!
READ AT YOUR OWN RISK......
~~~~~~~~~~~~~~~~~~~
RUIN AND RISING was everything I could of hoped for and more! It had a phenomenal ending that left me utterly satisfied!! I was pleased with every angle this book took. Though I have to admit that I found myself a little shocked at the direction that this book did take. But in the end, I was left feeling complete and at peace with the series in a whole. But I will mourn the route that it didn't take, and the ones that didn't make it. But to say I'm happy with the way it ended would be an understatement, I'm ELATED!!!





THE PLOT..



Alina is left all but shattered after her last battle with The Darkling in the Little Palace. She has failed to defeat him once again, and lost countless of lives in the process. She was not strong enough to defeat The Darkling, and she's paying for it now.



Hiding in the vast underground tunnels and caverns, a weakened Alina finds herself at her worst. With all her power dried up and gone, Alina and her remaining group are at the mercy of the

Apparat and his followers. The Zealots

who worship

Alina

as a Saint, but are under command of the Apparat. With

Alina

and her group weakened and highly outnumbered, the group will have to work together and use every bit of wits and strength they have to find a way out of the tunnels and away from the power-hungry Apparat. Because Alina is getting stronger everyday, and she's not ready to give up just yet. She wants out of hiding and to search for the only thing that's standing in her way of defeating The Darking, the Firdbird!!!



Alina and her group set out on their final journey to find the Firebird, and hopefully the charismatic, strategizing

lost prince, that took a piece of her heart with him. But they will have to overcome many obstacles and attacks along the way if they have any chance of finding the Firebird and making it to The Darkling before it's too late. Because The Darkling is getting smarter, he's taking bigger risk, and he's done playing games with Alina. And he's coming at her full force, so this time, she better be ready!

The time has come for the

ultimate

battle of good versus evil! Which side will be left standing to rule all of Ravka? Which way will the world sway? Will they be left cowering to an evil ruler? Or be relishing in the glory of a new world? Find out in this EPIC last installment of T

he Grisha Trilogy!!






I am so happy with this series. I know some people aren't happy with the way it ended, but I personally loved it!! I wanted this ending to happen, but I prepared myself for the worst. If it's one thing that ALLEGINAT has taught me, it's to EXPECT ANYTHING!!! So I was ready for any outcome to happen!! But this is the one I was rooting for, well not exactly. But I am HIGHLY satisfied, with plenty of tears along the way!!




Overall, THE GRISHA TRILOGY will go down as one of my favorite series ever!! And I am so sad to see it all end! I will miss every single one of these characters that I have grown to love. They have all found their way into my heart, and have a special place within where they will stay! Leigh Bardugo, I am ready for whatever you bring us next!

BRING... IT... ON!!!!!!!!!!
5 Epic, EPIC BONE HEARTS
WILL THE SUN SUMMONER SAVE THEM ALL...
OR WILL THE DARKLING CONQUER ALL...
FIND OUT IN RUIN & RISING...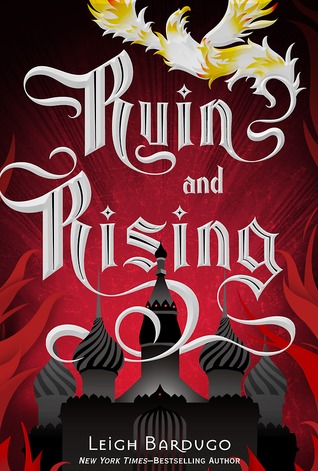 Leigh Bardugo is the author of the New York Times bestsellers Shadow and Bone and Siege and Storm. She was born in Jerusalem, grew up in Los Angeles, and graduated from Yale University, and has worked in advertising, journalism, and most recently, makeup and special effects. These days, she's lives and writes in Hollywood where she can occasionally be heard singing with her band.