What's Next
is a weekly bookish event hosted by Icey Books that helps bloggers/readers decide on their next book to read. If this sounds like something your interested in, then head over to Icey Books and sign-up!
Hey Guys,
Happy Thursday!
I hope everyone is having a wonderful week so far? Check out What's Next in my Reading Pile and if you can help me out by voting on What Next to read, you'd be a BIG help!
Deliverance
C.J. Redwine
(Defiance #3)
Published: August 26th, 2014
Genres: YA, Dystopian, Sci-f

Everything hangs in the balance, and nothing is certain: Rachel has been kidnapped by enemy forces and is being taken to Rowansmark while Logan, imprisoned and awaiting trial, is unable to leave Lankenshire. Separated from each other and their Baalboden comrades, each must find a way to achieve what they desperately want: to rid their world once and for all of the Commander and the tech that controls the deadly Cursed One.

Fighting through her pain and embracing the warrior she's become, Rachel will do whatever it takes to escape her enemies' clutches and join Logan in his fight. But when she learns a secret that changes everything, she realizes that escaping Ian and his tracker friends is no longer an option if she wants to save the people she loves. Instead, she'll have to destroy Rowansmark from the inside out—if she can survive the journey through the Wasteland.

Logan needs allies if he wants to thwart Rowansmark's power grab and rescue Rachel. But securing allies will mean betraying his beliefs and enlisting the help of the man he hates more than anyone: Commander Jason Chase. Driven by his fierce love for Rachel and his determination to make their world safe, Logan may be just the weapon the city-states need to defeat the Cursed One.

But as Rowansmark bears down and uneasy alliances are tested, will Rachel and Logan's love for each other be enough to surmount the unbelievable odds against them?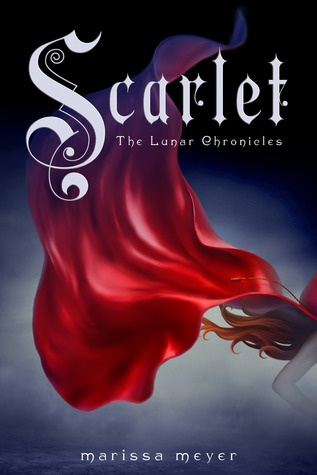 Scarlet
Marissa Meyer
(Lunar Chronicles #2)
Published: February 5th, 2013
Genres: YA, Dystopian, Sci-f
Cinder, the cyborg mechanic, returns in the second thrilling installment of the bestselling Lunar Chronicles. She's trying to break out of prison--even though if she succeeds, she'll be the Commonwealth's most wanted fugitive. Halfway around the world, Scarlet Benoit's grandmother is missing. It turns out there are many things Scarlet doesn't know about her grandmother or the grave danger she has lived in her whole life. When Scarlet encounters Wolf, a street fighter who may have information as to her grandmother's whereabouts, she is loath to trust this stranger, but is inexplicably drawn to him, and he to her. As Scarlet and Wolf unravel one mystery, they encounter another when they meet Cinder. Now, all of them must stay one step ahead of the vicious Lunar Queen Levana, who will do anything for the handsome Prince Kai to become her husband, her king, her prisoner.
One Past Midnight
Jessica Shirvington
Published: July 22nd, 2014
Genres: YA, Paranormal, Fantasy
Name of overseas edition of Between The Lives.
Above all else, though I try not to think about it, I know which life I prefer. And every night when I Cinderella myself from one life to the next a very small, but definite, piece of me dies. The hardest part is that nothing about my situation has ever changed. There is no loophole.

Until now, that is...

For as long as she can remember, Sabine has lived two lives. Every 24 hours she Shifts to her ′other′ life - a life where she is exactly the same, but absolutely everything else is different: different family, different friends, different social expectations. In one life she has a sister, in the other she does not. In one life she′s a straight-A student with the perfect boyfriend, in the other she′s considered a reckless delinquent. Nothing about her situation has ever changed, until the day when she discovers a glitch: the arm she breaks in one life is perfectly fine in the other.

With this new knowledge, Sabine begins a series of increasingly risky experiments which bring her dangerously close to the life she′s always wanted... But just what - and who - is she really risking?
So, what'cha think of my top 3 choices of the week? If you can help me out, leave a comment voting on which book should come first.

Don't forget to link me up to your What's Next or weekly memo and I'll come visit you! :-)