the winner's curse
As a general's daughter in a vast empire that revels in war and enslaves those it conquers, seventeen-year-old Kestrel has two choices: she can join the military or get married. But Kestrel has other intentions. One day, she is startled to find a kindred spirit in a young slave up for auction. Arin's eyes seem to defy everything and everyone. Following her instinct, Kestrel buys him 'with unexpected consequences. It's not long before she has to hide her growing love for Arin. But he, too, has a secret, and Kestrel quickly learns that the price she paid for a fellow human is much higher than she ever could have imagined.

Set in a richly imagined new world, The Winner's Curse is a story of deadly games where everything is at stake, and the gamble is whether you will keep your head or lose your heart.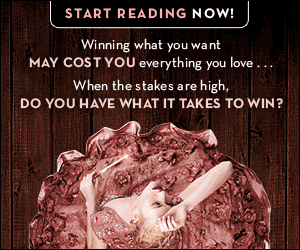 Ooh, THE WINNER'S CURSE, were do I begin to name the many reasons why I love you, and NEED more of you??? I am still tongue tide when I think about THE WINNER'S CURSE! It is beyond any logical words! It was so refreshing and amazing to read a book like THE WINNER'S CURSE. It was unlike anything I've ever read, and I'm SO glad I gave it a shot when I did, because I was debating, but eventually my curiosity won me over! I tend to steer clear of books that get a lot of hype (Like The 5th Wave ;) I get a little skeptical. But when I received an ARC, and sat down to read the first chapter and see what I thought, and let me tell you, I could not put it down to save my life!! I was captivated by each word, and before I knew it, I was almost finished, and already craving the next book!

There was honestly not one thing I did not like about THE WINNER'S CURSE! It was amazing in so many ways! The writing was elegant and engaging! Marie Rutkoski has crafted the most beautifully captivating, forbidden romance, that had me reading until the wee hours of the morning! I didn't want to put this book down for fear of what was coming next!

I loved the main characters, Kestrel and Arin were so addicting, and perfect in so many ways! They were both so full of life, yet flawed with restraints, by being forced to be tide down to their positions in their very different worlds, and it was so heart breaking. They were able to hold onto their strength, even though they both had to endure the pain and heartache of not having control over their lives! They knew what they wanted in life, but also knew that it could never be!

The romance was unlike ANYTHING I have ever read! I appreciated the romance in this book. And to be honest, there really wasn't that much, yet their was tons of emotions, chemistry, and plenty of desire. But not a lot of actually acting on it. And I really enjoyed that. It was not rushed one bit. It was more then halfway through the book before something actually happened between Kestrel and Arin, but, we didn't go without the romance feels! You could feel the pull and chemistry they had for each other, but also the strong resistance they clung too, for they both knew a Valorianns and a Herrani can never be! This book portrayed a romance as a romance book should. The feels were more real and the desire was stronger then anything I've read, and it felt honest and pure, and not rushed and tainted! Does that make sense? Anyways, I just loved Kestrel and Arin together and they made me want to reread this book as soon as I was done reading it! Seriously, I was thinking about it, but I had too many review books on a deadline, if not for that, I definitely would of reread it immediately! It was just THAT GOOD!!



THE PLOT...



In the thriving, yet ruthless empire, the Valorianns rule over the Herrani. They have been to war and succeeded on taking all the Herrani captive, but instead of killing them, they have enslaved them. Forcing them to be they're maids, cooks, weapon makers, farmers, and whatever else the Valorianns can see useful for them. The Valorianns believe them the superior of the two, and have proved that by taking away their freedom and forcing them to do their bidding's.

The Herrani have no choice but to be they're servant, for it is that, or be tortured and murdered until the Herrani race is extinct! And the Herrani can not allow the Valorianns to murder all of them until there is no more of them left! Because the Herrani have a plan! They have been biding their time, waiting, and slowly building their resistance among the Herrani people, waiting until all is set, and for the perfect time to strike! The Herrani want their freedom, and they're ready to take it back, one way or another!

Kestrel, the daughter of stern General Trajan, the leader of the Valoriann army, is on a routine visit in the towns market, with her best friend Jess when she finds herself at her first auction. It's not just any auction, it's a slave auction!

Kestrel can't help but to feel drawn to Arin, the slave she bought. Something about him is overpowering and mysterious, and Kestrel is intrigued and curious by his rough around the edges, yet softer, more gentle side, and feels there is more to Arin then what meets the eye. So she slowly starts finding reasons to show him attention, getting to know him for him, and not as her slave. But before Kestrel realizes how deep she's gotten in, she finds herself caught up with feelings she doesn't understand, and definitely doesn't want to admit, for she is Valoriann and he is Herrani. She is the superior of the two, and it is unheard of for the two races to become one. But that's exactly what Kestrel wants, at least deep down inside!

But their is a war brewing within The Herrani and The Valoriann, that will change the world as they know it. One side will have to either succumb or give-in. The Herrani are determined to get their freedom, but The Valoriann are determined to keep them as they are, enslaved and conquered! But when the table turns, and everything they've know is changed, The Herrani will have to decide how far they're really ready to go, while The Valoriann will have to decide what is worth fighting for. And Kestrel and Arin will have to decide where their heart lies and how far their willing to go for what they really want!

Will The Herran win their freedom back from The Valoriann? Will The Valoriann give-in a decide it's not worth fighting for, or will they go to war and risk killing lives on both sides? Will Arin finally see what's most important in life? And will Kestrel see where she really belongs? Well, READ THIS BOOK TO FIND OUT, because it is SOOOO worth it!!! It's a 2014 THAT'S NOT TO BE MISSED!!!

The WINNER'S CURSE is truly hypnotizing with it's originality and magical blend, it's historical background, political intrigue, and a romance so utterly breathtaking and captivating, that it will leave any YA fan or even adult fan, captivated and craving more! You'll be screaming for more of Marie Rutkoski astonishing story telling, heartbreaking situations, with enchanting characters unlike anything that's ever graced the YA gender!!

I will be painfully holding my breath until the next book is released!! The ending was enough to make me scream and rant more then a few times for not having the next book in the series. THE WINNER'S CURSE is something I think ANYONE, no matter what their genre is should read! It's just that freaking AMAZING!!!! Marie Rutkoski, I will be waiting impatiently until the next book arrives in my needy little hands, but until then, I will be banning my head against the wall in anticipation!!!



NOTE: I received an ARC from the Publisher for review. All opinions expressed are my own and are not influenced in any way!
5 BILLION Bone Hearts



|
|
|
|
|
|
|
V




HERE'S A PRETTY LITTLE GIF TO EXPLAIN HOW MUCH I NEED THE NEXT BOOK, NOWWWWW!!!!! ;)
**One of my Favorite Quotes**
CHAPTER 42, PAGE 354 & 355
She pretended not to hear him. She watched the white sky dissolve into snow and shiver apart over the leaden sea. She felt icy sparks on her skin. The snow fell on her, it fell on him, but Kestrel knew that no single flake could ever touch them both.
Marie Rutkoski is the author of The Kronos Chronicles, including The Cabinet of Wonders and The Celestial Globe. The Cabinet of Wonders, her debut novel, was named an Indie Next Kids' List Great Read and a Bank Street Best Children's Book of the Year, among other honors. Rutkoski grew up in Bolingbrook, Illinois (a suburb of Chicago), as the oldest of four children. She attended the University of Iowa, where she took Writers' Workshop classes and studied with Pulitzer Prize-winner James Alant McPherson. After graduating, she lived in Moscow and Prague. Upon receiving her Ph.D. from Harvard University, she held dual appointments as a lecturer there in both English and American Literature and Language, and History and Literature. Rutkoski is currently a professor at Brooklyn College, where she teaches Renaissance Drama, children's literature and creative writing. She lives in New York City with her husband and cat.
What did you think of my review of THE WINNER'S CURSE???
Have you read it yet? If not, will you be adding it to your TBR Reading Pile?