Waiting On Wednesday
is a weekly event hosted by Jill at
Breaking The Spine
that spotlights upcoming releases that we're eagerly anticipating.
Hey Guys,
I hope everyone is having a fantastic Wednesday?
Me? Better then the rest of the week. My kids are finally stating to feel better. Hooray! Anyways,
this weeks Waiting On Wednesday is from another book I'm dying to get my hands on! Check it out and let me know what you think in the comment section, and leave a link to your post so I can come visit you too! :)
Title:
Control
Genre:
YA, Dystopia. Sci-f
Published:
December 26th, 2013
An un-putdownable thriller for fans of Uglies

When a crash kills their father and leaves them orphaned, Zel knows she needs to protect her sister, Dyl. But before Zel has a plan, Dyl is taken by strangers using bizarre sensory weapons, and Zel finds herself in a safe house for teens who aren't like any she's ever seen before—teens who shouldn't even exist. Using broken-down technology, her new friends' peculiar gifts, and her own grit, Zel must find a way to get her sister back from the kidnappers who think a powerful secret is encoded in Dyl's DNA.

A spiraling, intense, romantic story set in 2150—in a world of automatic cars, nightclubs with auditory ecstasy drugs, and guys with four arms—this is about the human genetic "mistakes" that society wants to forget, and the way that outcasts can turn out to be heroes.
Why I'm Waiting
Why am I waiting? Well lets see. A futuristic world, a genetic human DNA "Mistake", kidnappers with bizarre sensory weapons, kids with abilities that should exist, intense spiraling romance, and more! All that plus more, yeah I'm definitely in!
Get a look at my first reaction to this book!
And this:
Then when I found out it wasn't releasing until DECEMBER
~Oh, I was hot~
This was my initial reaction:
Then I felt like this:
After I terrified everyone in my house I went to my room and did this:
After all that I still had some rage and emotion left in me to do this: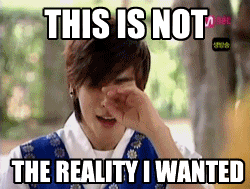 Then my final breakdow
n was like this:
As you see I'm more then eager to get this book in my impatient hands! It has everything I love in a book! But I am saddened to know the wait will remain for 3 more months....
So I leave you with this thought as I wait for December 26th, the day after Christmas!
Christmas where are you?
Meet Lydia Kang

I love salt more than chocolate. I'm somewhat small, yet deceptively strong. Sort of like an ant.

I write YA fiction, poetry and narrative medical nonfiction. I'm a part time doc, full time family member, and rather oxygen dependent.

My YA sci-fi novel, CONTROL, will debut December 2013 (Dial/Penguin). I'll be holding my breath until then. Watch me.
Find Her Here

What'd you think of my WOW Pick? Is this book in your TBR reading pile? If not will you be adding it to your pile? Leave me a comment and let me know what you think, and don't forget to leave a link to your WOW, or weekly memo, so I can come visit you! :)
HAPPY READING
&
UNTIL NEXT TIME